Speakers

Salma Benhaida
Director of International Admissions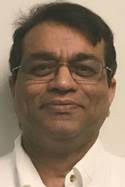 Dr. Arvind Bansal
Computer Science professor and director of Ms. Artificial Intelligence
About the Webinar
5 Key Facts about this Webinar:
Learn about applying to graduate school in the US.

Learn about Kent State Master's degree in Artificial Intelligence (AI).

KSU's MS in Artificial Intelligence (AI) is STEM OPT eligible.

Interested in Intelligent Analytics, Robotics, Smart Communities and Automation? Then you would not want to miss this webinar!

 Want to get the best return on your American education, careers in Artificial Intelligence (AI) are expected to continue to grow by 20%-30% over the next 10 years.
Who is Kent State University? 
Discover your purpose at Kent State University! Founded in 1910, Kent State is a large public research institution with more than 220,000 alumni worldwide, including international alumni employed by some of the most prestigious companies/institutions in the world. Kent State is currently ranked by the Carnegie Foundation among the nation's top 77 public research universities. Kent State offers more than 300 academic programs at the associate, bachelor's, master's and doctoral levels with internationally respected faculty and researchers who are dedicated to student success. Kent State has generous scholarships for international students, including $4000/year for four years for all incoming undergraduate international students.
Located in the Great Lakes region, Kent State has a high density of Fortune 500 companies within 48 kilometers of the campus, which offer opportunities for internships to enhance students' learning. In addition to its location in Northeast Ohio, Kent State University also has a campus in Florence (Italy), and a presence in Geneva (Switzerland), Beijing (China), Curitiba (Brazil), New Delhi (India) and over 60 study abroad locations. 
We pride ourselves on being a safe campus--our Kent campus is the safest in Ohio and one of the safest in the country. Stay healthy with our state-of-the art recreation facilities. We are also connected to a trendy downtown area with plenty of shopping, entertainment, and ethnically diverse restaurants.