It is easy to think of a university as just a building that accepts students and educates them. However, universities are also a significant part of the community, influencing it just as much as the community influences the educational institution.
Perhaps one of the best ways of understanding the influence of a university is by seeing what the people from its community go on to do in their lives.
For example, Troy University in Alabama, can lay claim to one the greatest men in the history of the United States: Congressman John Robert Lewis, a civil rights leader and "The Boy from Troy". Unfortunately, Rep. John Lewis passed away in July 2020, but Troy University continues to celebrate him and his values.
For a further understanding of the principles of Troy University, and if you are curious about studying in Alabama yourself, contact Troy University via the form below.
Who was John Lewis?
On February 21st 1940, John Lewis was born. Growing up in and around Troy, Alabama, and inspired by the activism of the Montgomery Bus Boycott and Reverend Martin Luther King Jr., John Lewis developed a worldview that meant he saw the need to get into "good trouble, necessary trouble". For John Lewis, this meant becoming involved in the Civil Rights movement and attempting to affect a difference in ending legalized racial segregation in the United States.
He was chairman of the Student Nonviolent Coordinating Committee (SNCC) between 1963 and 1966 and became one of the 'Big Six' (alongside Dr. Martin Luther King Jr.); influential leaders instrumental in organizing the 1963 March on Washington. John Lewis also led the first of three Selma to Montgomery marches across the Edmund Pettus Bridge in 1965, an incident which became known as 'Bloody Sunday'.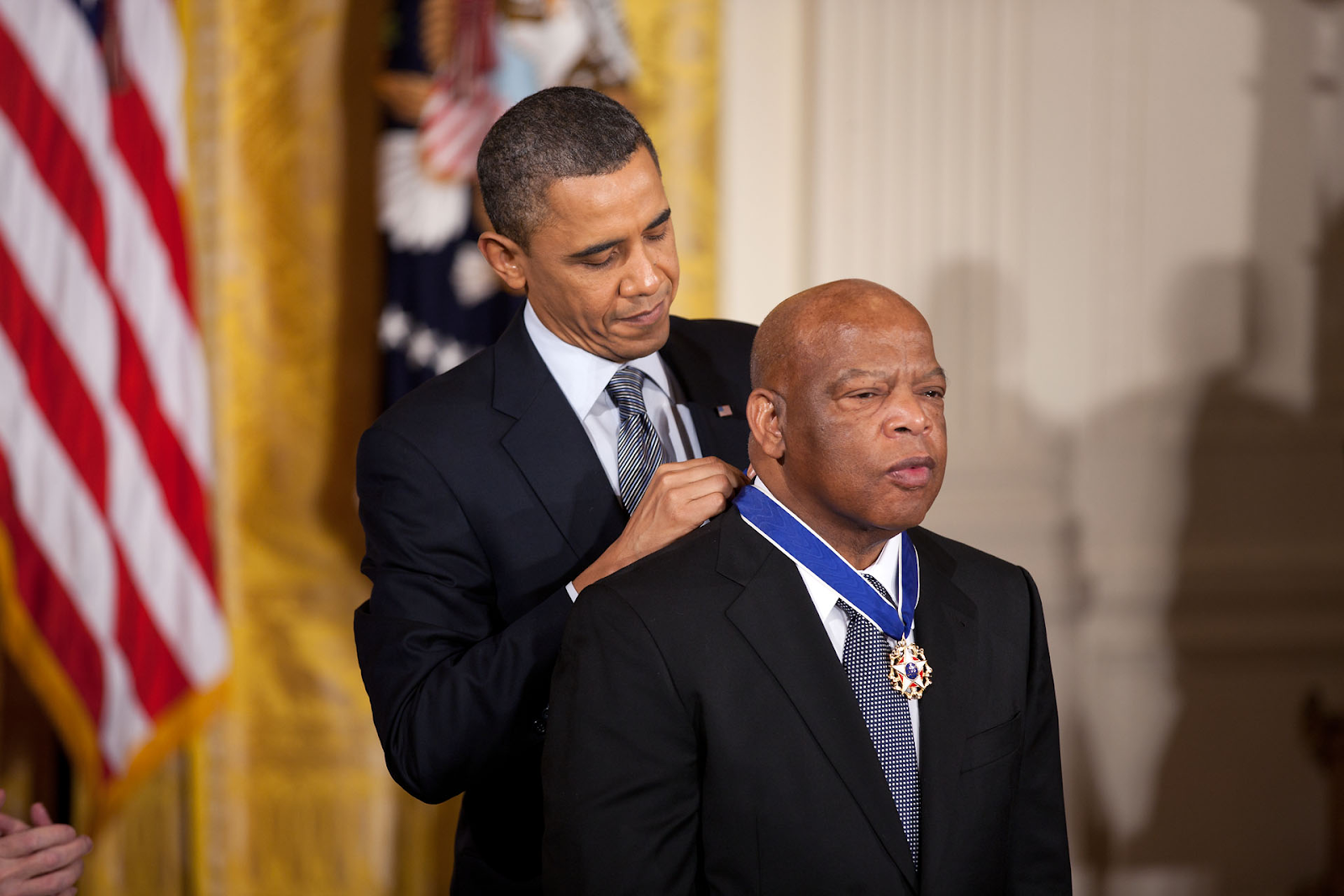 John Lewis being awarded the Presidential Medal of Freedom by President Barack Obama in 2011
He further extended his influence across the United States by becoming elected to Congress in 1986 - he served 17 terms in the U.S. House of Representatives. Throughout his time in government, he earned a great multitude of awards and accolades, not least of which was the Presidential Medal of Freedom.
The Boy from Troy
John Lewis was given the nickname 'The Boy from Troy' by Reverend Martin Luther King Jr. the first time they met, in Montgomery, Alabama in 1958. 
However, despite being from Troy, Rep. Lewis was denied entry to Troy University on the basis of race. Troy University Chancellor Dr. Jack Hawkins, Jr., would say that whenever he spoke with John Lewis, this event was always brought up.
"With that sheepish grin, he would always remind me that in 1957 he was denied admission to Troy State College," Dr. Hawkins said. "He would quickly remind me that, 32 years later, we were sensible enough to award him an honorary doctorate."
Despite this error, Troy University has done a great deal of work in rectifying the mistake. As well as his honorary doctorate, Lewis also received the Hall-Waters Prize for Excellence in Southern Writing from Troy University in 2006 for his memoir, "Walking with the Wind."
Since his passing, Troy University has also renamed a university building in honour of Congressman Lewis. The Bibb Graves Hall, which was named for a former governor with ties to the Ku Klux Klan, has been renamed the John Robert Lewis Hall - a further testament to the man's greatness and persevering ability to affect positive change.
As well as on campus, John Lewis' presence was felt throughout the city of Troy, as resident Daniel Wyche has said.
"The impact that he's had locally, nationally and internationally is [incredible]. It seems as though you can see traces of his influence floating around the campus still. Settling down here and seeing the real civil rights icons, it would be a waste of an opportunity to not come out here and see something like this in real time. He left us the concept of good trouble – if you see something that's wrong … and the next person that comes to that wall, you should be knocking it down for them. I believe that's what Congressman John Lewis did for us, set that example, so for me, it's about seeing that light and following it."
In February of 2018, Rep. John Lewis gave a speech at Troy University urging us all that young people receive the best education possible.
"We must see that all of our young people receive the best education possible for it is our young people that will lead us." he said. "We must learn to live together as brothers and sisters, if not, as Dr. King suggested, we will perish as fools," he said. "We have to look after each other and take care of each other, and we must never, ever give up on each other. It doesn't matter if we are black or white, Latino American, Asian American or Native American, we are all one people, one family. We all live in the same house, and it is not just an American house, but it is a world house. We must never hate for, as Dr. King stated, hate is much too heavy a burden to bear."
This feeling has spread throughout Troy University, a study destination full of diversity and goodwill.
Memorial at Troy University
In July 2020, John Lewis sadly passed away. However, The "Boy from Troy" made one last visit home.
Hundreds gathered to honour the life of the civil rights icon. Rather than be sombre, the service was bursting with life and energy. It featured the music of Sheila Jackson and gospel artist Dottie Peoples, as well as great tales of Rep. John Lewis' life and times.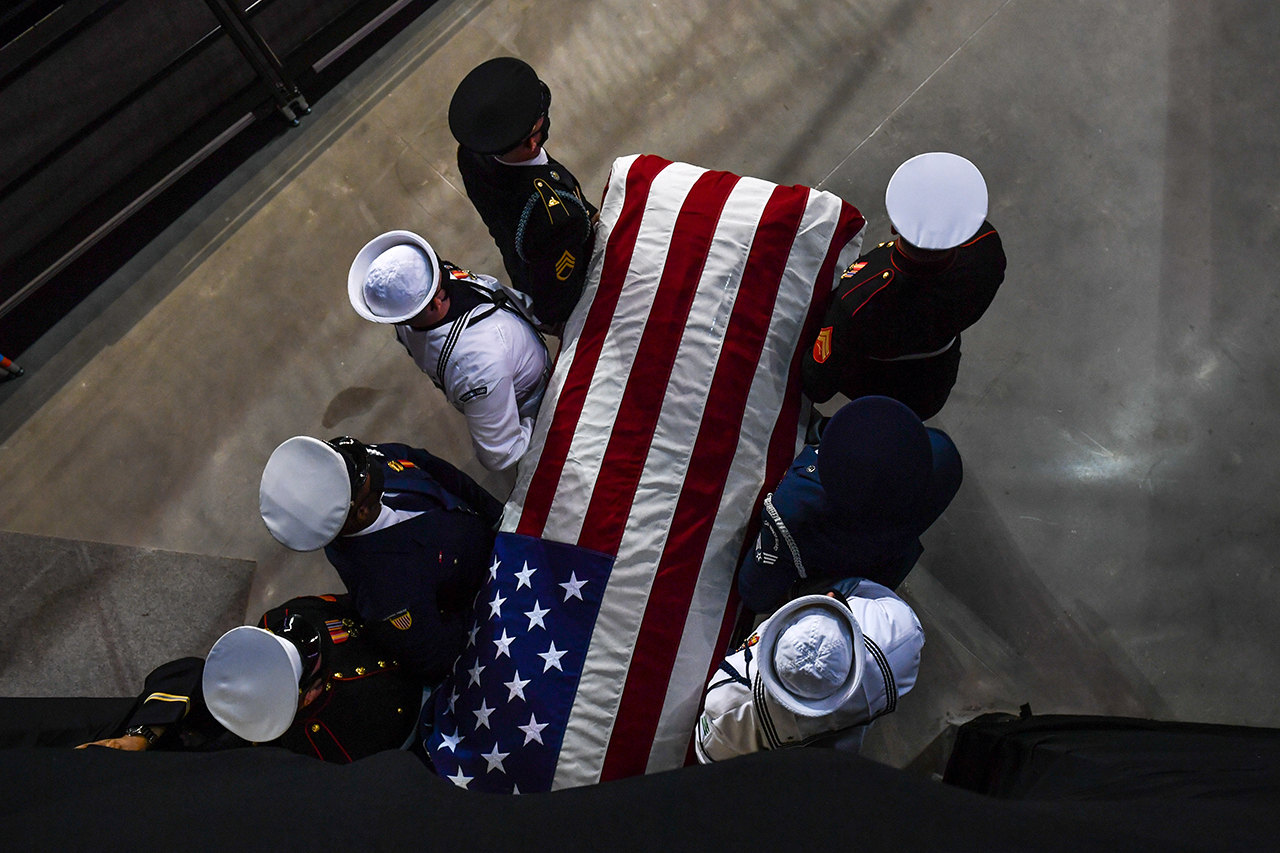 For Troy resident Mellonese Johnson, the memorial was a chance for her to pay respects to someone that she and so many others admired for so long.
"He was a legend. He did things for so many people, and he was a great person. My mother used to talk about him a lot, the struggle he went through, and he never gave up – not once."
Lewis also inspired Troy City Councilman Robert Jones.
"He was an icon. He was a warrior and a trooper," Jones said. "The lesson I take away from him is like he said, to get in and start trouble, but good trouble. You've got to walk on the right side, and that's what he did."
Mary Davis, a Troy resident who attended school with Lewis' brother gave perhaps the most fitting tribute to Rep. John Lewis:: "The kind of man that he was is the kind that God intended everyone to be – to stand up for what's right."
--
Troy University, in part, formed the man that the young Boy from Troy went on to become, and his spirit continues to be felt throughout Troy's campus, encouraging all types of men and women to achieve greatness.
If you are curious about finding out what it takes to join them, contact Troy University via the form below.