Are you one of those people who loves figuring out how things work, or tries to come up with creative ways to solve problems, whether they are big or small? If so then you might be a budding engineer!
People who are naturally curious tend to make brilliant engineers due to their thirst for knowledge and their solution-oriented mindset. The good news is that the world of engineering is vast, with a seemingly endless variety of specializations and career choices. This also means that nearly every university will offer degrees in several different fields of engineering, which might make your search bigger than you realized.
Want some help to narrow it down? Try looking at higher education institutions that are exclusively dedicated to engineering degrees; their intense focus reinforces their position in both the academic and the professional world.
Once such school is the University of Michigan-Shanghai Jiao Tong University Joint Institute (UM-SJTU JI). The Joint Institute was founded in 2006, following a strategic partnership between the University of Michigan in the United States and Shanghai Jiao Tong University in China. All of their courses are taught in English and an impressive 50% of their faculty are international.
That strong sense of intellectual curiosity and creativity we mentioned earlier is a common trait of all new students who arrive at UM-SJTU, and by the time they leave, they have become critical thinkers, strong communicators, and effective leaders in their fields. Since the Joint Institute opened, more than 700 international students from over 30 countries have studied there – maybe you'll be next!
Read on to learn about student life at UM-SJTU and fill in the form below so that a representative from the Joint Institute can contact you to schedule a personal, one-on-one consultation and answer all of your questions about their programs, admissions process, scholarships and more.

How to choose the right engineering program for you
First, consider the ultimate goal for your level of study. For example, if you want to focus on developing knowledge and skills through class and laboratory work, then an undergraduate program is your natural starting point and might be the highest degree you choose to earn.
UM-SJTU offers three undergraduate programs leading to a Bachelor of Science in Engineering:
Mechanical Engineering (ME)
Electrical and Computer Engineering (ECE)
Materials Science and Engineering (MSE)
The ECE and ME programs are accredited by the Engineering Accreditation Commission (EAC) of ABET.
Meanwhile, if you're thinking about an advanced degree, then you can choose between:
A Master's program where you will still take a substantial number of courses in math, science, and engineering;
Or you can then continue ahead to a Doctoral program that puts increased emphasis on developing your independent research abilities and your original academic writing skills.
The Joint Institute offers Master of Science (MS) and Doctor of Philosophy (PhD) degrees in Mechanical Engineering (ME) and Electrical and Computer Engineering (ECE) related areas. In fact, there are eight research themes to specialise in, from design and manufacturing to electromagnetics.
Finally, if you're looking for a competitive engineering program that has a strong international focus, then a Dual Degree is a great choice.
The dual Bachelor's degree program lets you earn two Bachelor's degrees in two different majors within four years. Imagine spending two years studying in China followed by two years in Ann Arbor, USA! You'd have a unique, global experience and graduate with two Bachelor degrees, one from Shanghai Jiao Tong University and one from the University of Michigan. It's almost like getting two degrees for the price of one!
Moreover, you can extend the program and make it five years via their Global Degree Pathway Program, giving you a Master of Science degree and another international experience at one of UM-SJTU's partner universities.
What makes this program so special?
These kinds of global degree programs can really stand out to future employers because they serve as concrete proof of a student's ability to adapt to new environments, understand other cultures, and take a bold step in a different direction by diversifying their learning experience.
In fact, there's evidence of this in the stories of personal resilience and success from UM-SJTU's alumni who continue to inspire future and current students as they adapt to evolving technologies and the demands of the marketplace.
Browse through UM-SJTU's Alumni News Hub and you'll a common pattern: in the last five years, their alumni and faculty have consistently appeared on Forbes Magazine famous "30 Under 30" China list, which annually features young innovators, entrepreneurs and leaders who are challenging conventions and making an impact in the world.
How to get accepted into a competitive engineering school
With results like that, you can imagine that the admissions process might be tough. Here to offer some tips is Daniela Mata, an international student from Peru on the UM-SJTU Dual Degree program majoring in Aerospace Engineering (AE). Regarding your application essays, she advises, "Highlighting the aspects of UM-SJTU that you love is good, but many other students tend to focus on that. Instead, focus on yourself as part of the university community and say what you will achieve by attending the school."
---
Read more tips from Daniela here.
---
We've pulled out a few more of our favorite student success stories below to give you a sense of the kind of future leaders a university like UM-SJTU helps to create.
Tip! Be sure to follow UMSJTUJI on Instagram!
Settling into life as an international student in Shanghai, China
In order to help international students live and learn in a new environment, the college's Peer Program matches each foreign student with a buddy who helps them to become familiar with the campus, understand the local customs and integrate more quickly.
Rui Silva, a third-year Portuguese student majoring in electrical and computer engineering, found this program invaluable upon his arrival. Rui speaks several languages but Chinese was new to him when he first came to Shanghai.
But in no time at all, for Rui, the Joint Institute became like an international family where he can communicate with students from different countries and discuss life. Moreover, thanks to a wide variety of activities and sports on offer at the UM-SJTU Joint Institute, Rui was able to continue to play football, a sport he's loved since the age of four.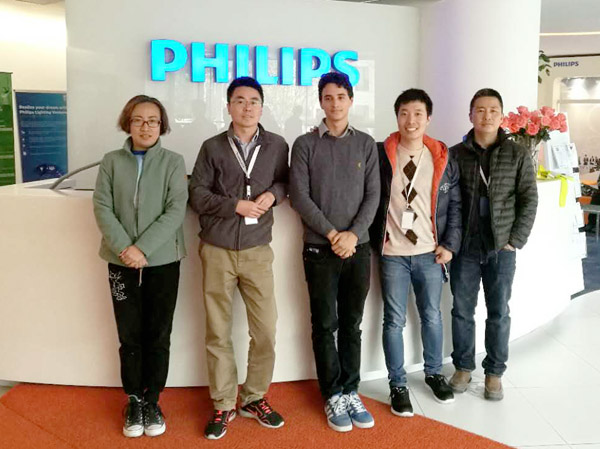 It's natural to feel nervous during your first few weeks in a new country or institution. But student services like buddy programs are a great way to help you ease into your new lifestyle, and oftentimes you'll find that if you take the first step, it'll be smooth sailing after that.
Shinedul Purevdor, an international student from Mongolia, would certainly agree. He joined UM-SJTU in 2017 and majored in mechanical engineering. When reflecting on his first week of classes, Shinedul commented, "Even though the teacher and the students were meeting me for the first time, everybody was so friendly and welcoming that it felt like I have known them for a long time. Later I learned that this was simply the way that Chinese people aspire to be from a young age, it was rooted deeply in the Chinese culture."
---
Read more of Shinedul's story here.
---
Whether it's in or out of the classroom, there are plenty of chances to make new friends and step out of your comfort zone. For new students who are about to enter UM-SJTU, Rui suggested that they should explore their potential more. "You should actively participate in various activities and expand your interests. You should actively talk to the lecturers, whether it is to discuss academic issues or just want to know each other, it will be very rewarding."
---
---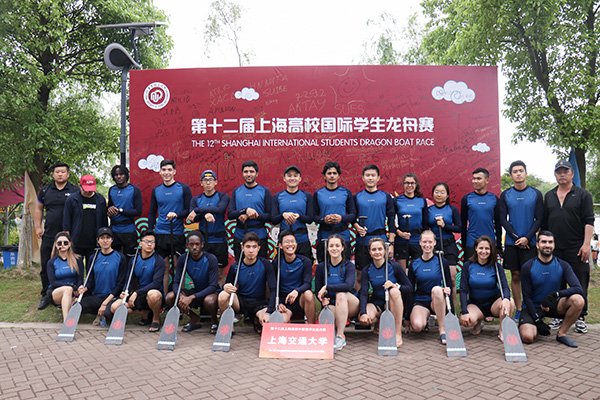 And as for the city beyond the Joint Institute's doors?
"There are so many opportunities in Shanghai. I like the energy of this city," says Lars Vagnes from Norway, a 2018 undergraduate graduate. "There are so many entrepreneurs, and many people are trying boldly. As an entrepreneur, you really need that kind of energy [and to have a lot of] brave people around. The experience was even a little daunting, but it was awesome!"
---
Learn more about his story here.
---
Tip! Don't forget to fill in the form and an admissions expert from the University of Michigan-Shanghai Jiao Tong University Joint Institute will get in touch with you right away!
Group work and real world projects
During that crucial "settling in" phase, you'll also be adjusting to new teaching styles and classroom atmospheres. The University of Michigan-Shanghai Jiao Tong University Joint Institute prides itself on its ability to help student gain first-hand experience – not just in engineering projects but also in working in teams.
Malaysian mechanical engineering major Gan Ding Zhe reflects back for us: "In my first semester, I was assigned a team project for the course of 'Introduction to Engineering'. We were asked to design a moving robot that is able to move around, catch the ball and throw it to the enemy's domain. We need to be very familiar with Arduino coding, robotic arms, and some sensors in order to fulfill the project. I was very stressed as I had no such experiences before. Luckily, I joined an excellent team. Everyone was very participative and we could always come up with brilliant ideas. Our team leader was an expert in coding who played an important role in carrying us forward. Finally, we came out with a 'perfect robot' that could do fancy stuff and even give a sneak attack before the end of the match."
---
---
Academic and personal rewards – Life lessons learnt
At the end of the day - and of the degree - what matters most is not always what is learned in books. Rather, it's the way you learn how to analyse a situation and collaborate with others to solve problems.
As Rui explained when thinking back on the skills he's taken away, "This [way of teaching] requires us to have the enthusiasm to continuously explore all possible details, so as to obtain a methodology for investigation and research. Therefore, sorting out data and extracting effective information has cultivated my logical thinking and coherent thinking ability."
Meanwhile, Chinese alumni Xieyang Liu from UM-SJTU's Undergraduate Class of 2017 explained that "like many of his classmates, he has repeatedly experienced the mixed feelings of confusion, uncertainty, excitement and joy. In retrospect, he thinks the most important thing he has learned from his university time didn't come from burning the midnight oil to keep up with the rigorous curriculum, but instead, he learned how to develop a thirst for knowledge, perseverance and the calmness needed when facing glory or setbacks."
His final tip? "Life is like a game of chess. To win, one needs not only a fine plan and comprehensive overview, but also the courage to take risks and the adaptability to trying situations."
---
Learn about the twists and turns in Xieyang's education journey here.
---
Want to learn more about the cutting edge engineering degree programs at the University of Michigan-Shanghai Jiao Tong University Joint Institute? Fill in the form now!