Whether you're studying abroad in a neighboring country or in one halfway around the world, chances are that you'll be surrounded by students from many other places. But can you imagine a community of students from over 130 countries? If you met a person a day from each country, you'd need almost half a year to get through the list!
Where can you find an environment like this? Look no further than Temple University, a top ranked research university in Philadelphia, Pennsylvania, U.S.A. With so much diversity on campus, you might expect a huge student population. However, Temple enrols just under 40,000 students, which means it's big enough to provide over 600 programs and offer world-class resources, yet small enough to create a close-knit support network for foreign students.
If you're like many of those students, you might need to refine your English skills before entering an intense academic environment such as the one at Temple. Not to worry – they've designed a Conditional Admission Program (CAP) that helps ease you into university life, improve your English and earn university credit.
To find out more, fill in the form below to connect directly with a representative from Temple University and receive info on their Conditional Admission Program, U.S. college culture, or tips on how to choose the right institution to match your goals.
Celebrating the international student community at Temple University in the U.S.A.
With so many international students on campus, Temple makes a dedicated effort to create a supportive environment for them through year-round activities and multi-cultural events. This begins with an international student orientation program upon arrival, where you'll meet your fellow new students and get to know the campus.
Once a year, they amplify this global community spirit with their #YouAreWelcomeHere Week, which includes a full program of games, food, and fun ways to combat stress or learn something new. In 2020 these events were held online, however 2021 will bring the celebrations back on campus as most of student life resumes in person. To get a glimpse of what happened at the 2019 event, check out their flashback video below.
The international environment at Temple is a clear draw for many students, as Abdulrahman Alsulaiman from Saudi Arabia explained, "One of my friends recommended the Intensive English Language Program to me. When I did some research, I learned that the program has many different nationalities, which is a great thing because you can learn about many cultures, including the American culture. I learned English but I also learned about 16 different cultures. I made friends with classmates from many other countries."
Improving your English to prepare for American university degree courses
As you can imagine, studying in English at a top ranked American university might not always be easy (well, you wouldn't learn anything if it was too easy, right?) but one thing is for sure: Temple will do everything possible to help you at each step of your journey with them.
Of course that includes all the usual things you'd expect from a top notch U.S. institution such as open office hours and drop-ins for extra tutoring, as well as free online resources and study tools. However, Temple goes one step further. They offer an entire support system which they call the CAP Community.
For international students enrolling in their Conditional Admission Program, Temple University provides several different avenues for one-on-one academic advising. For example, you can ask to be paired up with a Conversation Partner so you can practice your English listening and speaking skills in a more natural setting.
In addition, every CAP student is matched with an advisor who runs weekly check-in sessions (alternating between one-on-one meetings and small group sessions) where they spend quality time with you to answer questions you may have, but also (and perhaps more importantly) to ask YOU questions. During these structured sessions, your advisor will make sure you are adjusting to your new life in America, give you tips to help with your academics, mental or physical health, and share ways you can get involved socially on campus to make new friends through sports, clubs, or volunteer efforts.
Don't forget to fill in the form below!
Extra academic support is included in your tuition fees
"I was surprised by all of the resources offered for mastering English," says former student Landry Bado from Burkina Faso. "I learned all the basics of the English language—how to write and also how to talk and be understood in the U.S. [The Intensive English Language Program] IELP helped me in many different ways, especially with academic writing. I learned how to write scholarly papers, and it was definitely beneficial for college."
Beyond the support offered to help you succeed in the classroom, Temple's advisors will also assist you with career planning and leadership development. With our world becoming increasingly globalized, this is another big advantage of studying at Temple because you'll gain exposure to a wide variety of cultures and communication styles.
Landry's favorite thing about studying at Temple University was meeting people: "I had the opportunity to learn a lot about different cultures and personalities, and I also grew a lot as a person!" he said with a smile.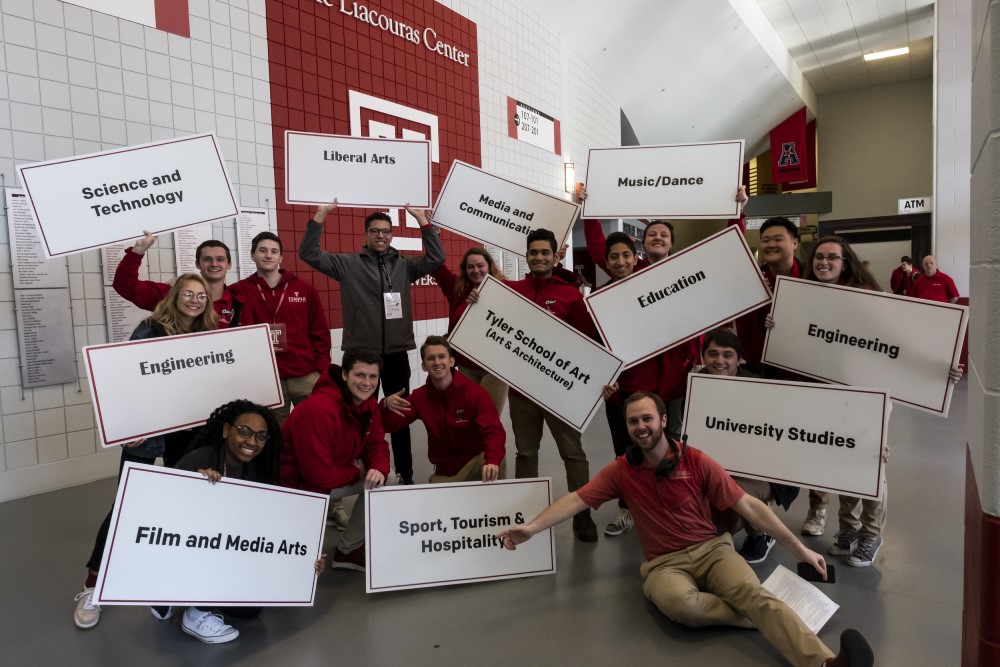 Additional advantages of Temple University's Conditional Admission Program
Temple's CAP is a full-time program for students aiming to advance to an undergraduate program. You can enroll for a Fall or Spring start date, and you can take classes over the summer, too. Your class schedule includes a combination of English language and university credit classes. In fact, you can earn up to 18 credits toward your degree!
Getting into the program is a straight forward process that you can discuss with Temple's admissions team during your private chat with them which you can request via the form below.
You'll apply to the institution normally, and then get placed into the CAP. Since the program gives you admission into Temple University, you don't need to re-apply to the university or retake the TOEFL or IELTs test; you simply transition right in to bachelor student status, which you can even do in as little as 16 weeks!
As a graduate of Temple's CAP, you will be automatically eligible for merit scholarships, which means you could receive up to US$ 15,000 total towards your bachelor degree tuition at Temple.
And if you need even more reasons why you should choose Temple, then watch this video of students from dozens of countries as they explain what they love about studying there.
Studying in America's "city of love"
Temple University has an urban campus located in the heart of Philadelphia, the second largest city on the East Coast. Known colloquially as Philly, it has all the perks of a big city but it's much easier to get around thanks to its compact size and it has a cheaper cost of living. Rich in American history, you'll be based near the site where the United States Declaration of Independence and Constitution was signed and you'll be surrounded by colonial-era sites that blend seamlessly alongside modern riverfront attractions.
Thanks to the city's location, you can experience all four seasons throughout the year and you're only a few hours away from New York City, Washington D.C. or Baltimore.
According to the U.S. Census, about 14% of the population in Philadelphia was born outside of America, and given its cosmopolitan nature, you can find many local communities of people from around the world. Owing to this diversity and tolerance, Philly lives up to its nickname as the City of Love.
With all this to offer, perhaps it's no surprise that the city was voted "one of the world's greatest places" in 2021 by Time Magazine and "one of the 25 best places to visit" in 2020 by National Geographic.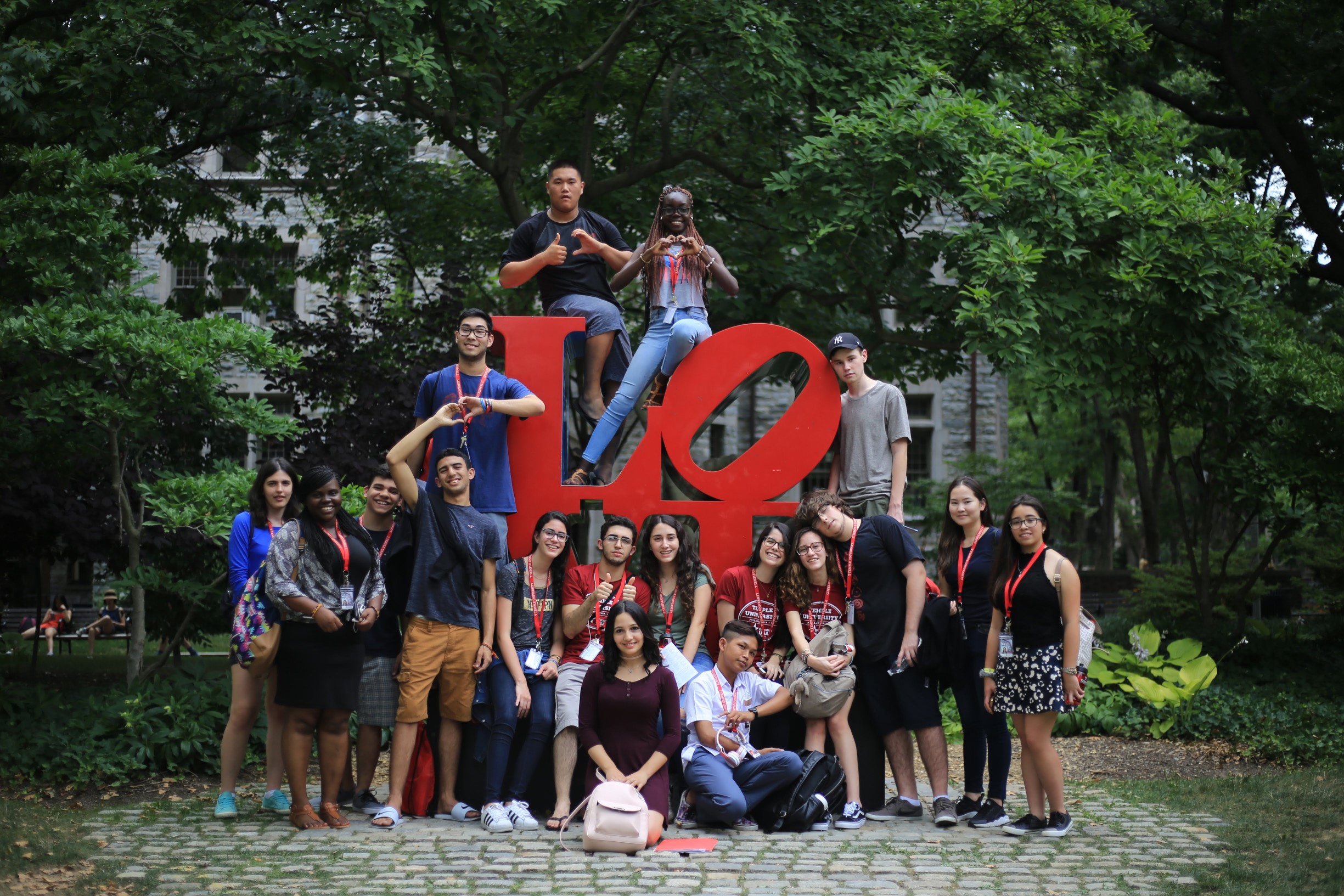 Enroll at a big university with a small school feel
With over 60 staff members at Temple dedicated to supporting international students, you'll be sure to find a welcoming environment where you can develop your personal, academic and professional goals. Fill in your details below to chat with them directly and discover how you can get started on your path towards a degree at Temple University!