As you're researching colleges in America, your search will probably lead you to a few located in sunny Florida. After all, the state is home to over 46,000 international students, which makes it the seventh most popular state for foreign students. Within Florida, you'll find a wide range of institutions such as state-run universities, community colleges, religiously affiliated institutions, technical colleges, and private institutions.
Look a little closer and you'll discover Florida State College at Jacksonville (FSCJ). FSCJ ranks 11th in the U.S.A. out of nearly 4,550 public, four-year colleges and universities granting associate degrees, according to Community College Week.
Located in the northeast corner of the state, Jacksonville is home to 22 miles of beaches, riverside waterways, state parks, and endless opportunities for outdoor activities. As the most populous city in Florida, it has a wealth of attractions to keep you entertained, from arts and culture to sports to culinary experiences.
Jax, as locals call it, lives up to its city motto: "It's easier here." And not only will you find it easy to settle in as a new resident, you'll also find it easy to adjust to life as a foreign student at FSCJ thanks to all the support they provide.
For example, they offer virtual and in-person tutoring, plus each student at FSCJ has their own Academic Success Coach who will work with you to help you achieve your optimal academic performance. They'll give you personal support so you can do well in school, graduate, and move on to the next step, whether that be to a career or pursuing a higher degree.
Your Academic Success Coach will help you to:
Identify barriers to academic progress,
Implement a personal solution to challenging issues or areas of concern,
Explore and practice good study skills and habits,
Discover College resources available to support your personal, social and academic goals.
As one student explained, "Having an Academic Success Coach is a primary key aspect in navigating towards your educational success and goals, regardless of when you graduated high school."
Ready to learn more? Fill in the form below and keep scrolling for more info!
Lots of support for foreign students who come from dozens of countries
Student diversity is celebrated at Florida State College at Jacksonville, which welcomes students from more than 115 countries. You will benefit from a multicultural environment and gain experience interacting with students from around the world. As a snapshot example, their Fall 2021 term included students from Benin, Brazil, Colombia, El Salvador, Estonia, France, Haiti, India, Kazakhstan, Mexico, Myanmar, Peru, Russia, and Vietnam.
What binds them all? A desire to learn and adjust to a new lifestyle as a student in the United States. Here again, FSCJ's counsellors play a pivotal role. "I have never met an advisor throughout all my schools combined that made me feel so comfortable and was so insightful and encouraging," beams an FSCJ student.
English language support and conditional admissions programs
Being immersed in the English language 24/7 is one hurdle that many international students can find challenging – both academically and personally. To help make it easier to get accustomed to American culture and a university environment, Florida State College at Jacksonville has an English Language Institute (ELI) which serves as a stepping stone to many degree and career choices.
"We provide a bridge to get international students from where they are to where they want to be," explains Bryan Stewart, Project Coordinator. The ELI provides intensive, high-quality, non-credit classes to non-native English language speakers.
Classes are held during the day from Monday through Thursday at the Downtown Campus, which means you have a three-day weekend free for part-time work, extra studies or exploring the area.
In fact, going beyond the classroom is an integral part of learning at FSCJ to help you enhance your English in a real-life setting. Class field trips include local visits to museums, the Jacksonville Zoo, cooking classes, a city tour of Jacksonville, and a trip to St Augustine, the oldest city in the United States.
Psst! Don't forget to fill in the form below for more info on FSCJ!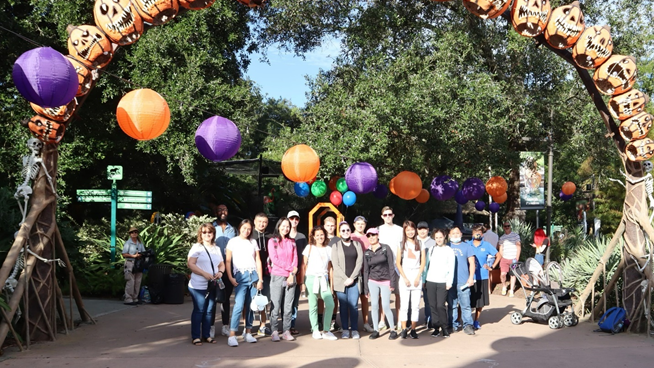 Whether you need assistance in improving your English for one semester or a full year, you can start out in FSCJ's ESL program and get conditional admission into one of their many degree programs. The College offer 13 bachelor's degrees, 45 associate degrees and more than 100 technical certificates and workforce certifications.
If you're not completely sure of what you want to study, that's not a problem! You can use their free interactive tool to take a career assessment and find out which degree focus matches your interests and strengths.
Your Academic Success Coach can also help you shape a study plan and you'll find plenty of resources to help you explore your options. To get started now, watch their short video below to get a sense of what you'll learn during student orientations – maybe it will give you some ideas of what you can ask an FSCJ representative when you have an exploratory virtual appointment with them.
Some popular degree choices for international students in Florida
If you're looking for a popular degree choice such as a Bachelor of Science in Biomedical Sciences, then Florida State College at Jacksonville has got you covered. By enrolling in this program, you'll obtain the core prerequisites necessary to succeed in science graduate programs, as well as professional programs such as medicine, dentistry, veterinary medicine, podiatry, chiropractic medicine, occupational and physical therapy, and physician assistant programs.
Meanwhile, if a two-year degree is more your style, FSCJ has a great selection of Associate Degrees covering a wide range of interests and career paths. In fact, FSCJ has three unique aviation-related degrees to choose from:
That last degree even covers Unmanned Aerial Systems (UAS) and enables you to earn an FAA Drone Pilot Certification, which opens the door to a huge field of up-and-coming careers in package delivery, real estate and aerial surveying, as well as agriculture and infrastructure inspection.
Each program awards you with 60 credits which gives you an Associate in Science as a stand-alone degree, or acts as a gateway if you decide to transfer those credits and use them to build up to a Bachelor's degree.
While FSCJ has seven locations, you will most likely be based on their Downtown Campus in Jacksonville. Their ELI is located there, along with the College's advanced technology programs, including computer networking and cyber security, advanced manufacturing, biomedical technology and biotechnology. Their main campus also offers degree programs in other high demand fields, such as logistics and supply chain management, office administration, business management, early childhood education, and culinary arts and hospitality (students on this program even get to work in the campus's Cafe Frisch!).
You can explore all the areas of study on the FSCJ website and when you fill in the form below, you can talk through all your options with one of their representatives during your virtual advising appointment. With an accessible ESL program to get you started, a wide variety of degrees run by qualified faculty and a relaxed coastal city to call home, you'll surely find Florida State College at Jacksonville to be the perfect springboard to your future!