Why Study in Montreal?
McGill University, based in Montreal, Canada, is one of the most highly respected and decorated universities in the world. 
McGill offers degrees in more than 300 subjects, to over 10,000 international students, making up over 27 percent of the student population. Consequently, it is one of Canada's most internationally diverse institutions.
Among its alumni, it counts: Nobel laureates, Rhodes Scholars, astronauts, the current Canadian Prime Minister, several justices of the Canadian Supreme Court, Academy Award winners, Grammy Award winners, Pulitzer Prize winners and Olympic medalists of varying nationalities. Moreover, the University's extensive alumni network constantly give back in the form of guest lectures, projects and establishing network links.
McGill University is also the only Canadian institution represented in the World Economic Forum's Global University Leaders Forum.
At Expo Posgrados Bogotá this November, Professor Shoeb Hosain from McGill University will be present to discuss, among other things, specialized master's programs including leading topics in the growing fields of Analytics, Finance and Retailing.
Do not miss this opportunity and register for Expo Posgrados Bogotá now.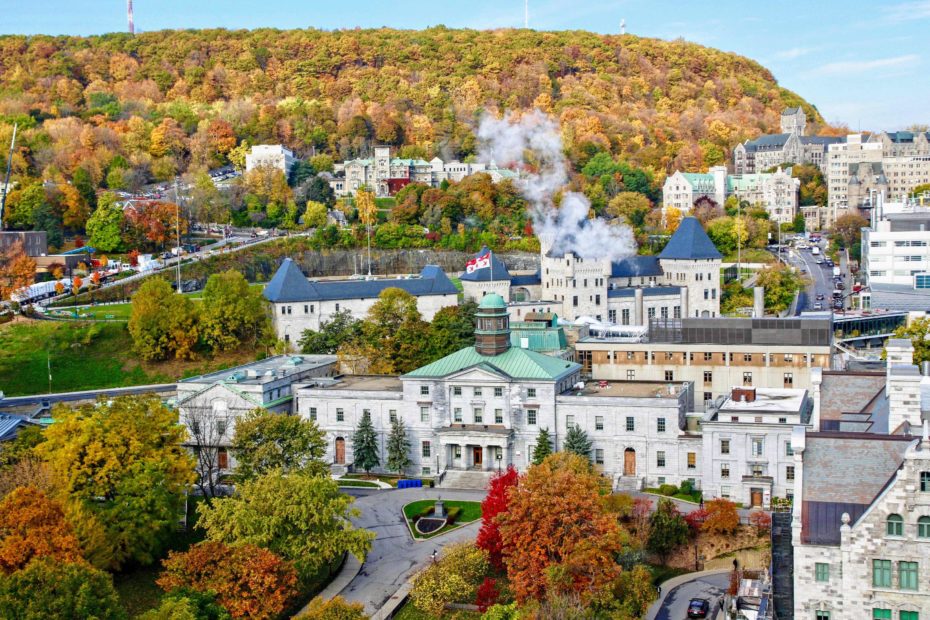 McGill University
Studying in Canada has many clear advantages compared to the United States or the United Kingdom. However, if we were pressed to pick just one, it would be: employability. 
We have seen that Canada has first-rate universities in McGill. While the USA and UK admittedly also have some strong universities, beyond those exceptional few (Ivy League, Oxbridge), the quality can vary wildly. Canada is home to strong universities almost entirely throughout the country and professors at these universities publish research works in top publications globally.
Post-graduation, Canada is superior to the UK and USA for finding employment. It has a robust job market and is particularly growing in the technology and startup communities. Montreal is becoming highly recognised as a center of technical excellence and growing leader in the field of AI with companies like Element AI and new media (particularly video games (with companies like EA and Ubisoft), immersive environments and virtual and augmented reality). Consequently, many new companies are establishing themselves in Montreal and searching for the best talent available, of which McGill University is one of the first places to look. Shoeb Hosain, Program Director at McGill, said, "Of our first cohort, we were also pleasantly surprised that the vast majority of our students (including non-French speakers) found very good roles in leading firms in Montreal." 
Montreal, Canada
McGill University also makes it as easy as possible for international students looking for employment after graduation with the Post-Graduation Work Permit. The Post-Graduation Work Permit is an open work permit, with the following benefits:
no job offer requirement
a duration of up to 3 years (depending on the official length of program completed)
eligibility for Provincial Healthcare (information on applying for healthcare in Quebec can be found here)
For complete details, visit the Immigration Canada website.
International graduates in other countries are often expected to find sponsorship to remain post-graduation, whereas Canada looks to keep its most talented graduates. 
Montreal as a city is also an exceptional place to live, being affordable, safe and highly cultural. 
Speciality Programmes: an Increasingly Popular Alternative to MBAs
In accordance with McGill University's highly regarded status, its business school, Desautels Faculty of Management, is ranked as one of the world's top international business schools.
Desautels continues to innovate in order to appeal to prospective students and it has recently developed an alternative to MBAs. While MBAs remain highly respected, there is a growing feeling that while an MBA can be a  good overview of several areas of business, there is currently a greater market need for those with a deeper and more specialised experience in specialised areas. 
This means that applicants to these programs can come from more varied backgrounds and be ready to hit the ground running once entering employment.
We spoke with Professor Shoeb Hosain, Program Director of the MMA Program at Desautels, to see why these programs are so effective and just why they have received so many applications.
-How do specialised master's programs differ from a typical MBA?
Professor Hosain: Our specialized masters programs offer deeper dives into concentrated areas of focus where there is substantial market need for talent. For example, our MMA allows students to study Business/Statistics/Technology courses simultaneously and in a deep and integrated fashion so that we can develop a growing talent pool in the fields of Analytics/ Data science and practical applications of machine learning and AI.

-What characteristics does a successful applicant to the MMA program have?

Professor Hosain: Since our teaching focuses on our 3-core pillars (Statistics/Technology/Business applications) we admit students that have a background in any of these areas, but who also have a deep hunger to learn the other pillars. 

Students who succeed in being admitted to the program show strength in multiple pillars by discussing their previous project work (both in university and extracurricular), and by showing strong leadership skills and focus on where they want to take their careers. We want to build Analytics/AI ambassadors and that takes both technical expertise and high motivation to succeed in this growing field.
MMA Students on a Study Trip

-There is high demand in Montreal for those with AI and Tech Start Up experience then?

Professor Hosain: A search on Indeed.com consistently shows approximately 3000 open jobs in a search for 'Data Scientist' alone. With the recent surge in technical efficiency projects, companies are trying to gain a competitive advantage and others are playing catch up. Both of which is leading to this spike in demand. We were also pleasantly surprised that the vast majority of our students (including non-French speakers) found very good roles in leading firms in Montreal.

-What is the career path for a graduate of the MMA program?

Professor Hosain: We admit students from multiple backgrounds and we expect them to pursue careers in many different industries.  The one common thread is that they will be utilizing data/analytics/technology to drive deep insights that convert to Top and Bottom line results for the companies and clients. To give some examples, some paths include:
-Finance Industry: Credit Analyst/Data Flow Designer Underwriter/Claims modeler
-Science Industry: Lab technician/Analyst/Researcher/Drug discovery modeler
-Technology Industry: Solution Architect/Data Scientist/AI Modeler
-Management Industry: Visualization Specialist/UI & UX Designer/Center of Excellence Strategist
Desautels Students

-Do applicants require any previous employment experience to apply or to be accepted?

Professor Hosain: No prior work experience is required for the MMA, MMF, and MMR programs. Even though no prior work experience is required, applicants of all ages/work experience should apply for admission.
Since we consider a number of factors, and area always looking for well-rounded individuals, work experience can offer a different dimension to one's candidacy.  However, we do admit students with no prior full-time work experience (which is different to a standard MBA).
Meet McGill Representatives in Person
At Expo Posgrados Bogotá this November, Professor and Program Director of the MMA Program, Shoeb Hosain will be present. 
Shoeb will represent the following Desautels specialized master's programs at the ExpoPosgrados – Bogota Fair:
So do not miss your opportunity to speak with Professor Hosain in Bogota and discover more about McGill University, Desautels and specialized master's programs on the 16th and 17th of November 2019. This is a chance to make an impression on the Director, who is also a member of the admissions committee.