Engineering is one of the most popular fields of study for international students in the USA today. But with such a broad discipline, how do you know which type of engineering degree to choose?
Today's article features two undergraduate programmes with a unique focus that will help you stand out in the job market with a well-rounded skill set and evidence of hands-on experience. Both programs are run by Millersville University in Pennsylvania, which offers exceptional academic quality for 6500 students in a peaceful, rural setting that is just one hour from major cities.
To get up to speed on all the benefits of studying at Millersville in Pennsylvania, head back to our previous article which includes a quick summary of what makes this university unique.
And if you're curious to learn more about two of their hottest degrees, then fill in the form below for a one-on-one consultation with their admissions team and read on!

What types of engineering programs can you find in the USA?
First, let's clarify the difference between Engineering and Applied Engineering:
Engineering (for example, mechanical, civil, electrical, chemical) focuses on the theoretical and conceptual aspects of creating technological solutions to known problems. This type of engineer uses science and mathematics as predictive tools for designing technological creations such as bridges, new machines for manufacturing, and airplanes.
On the other end of the technological spectrum are the workers that build, operate, and maintain those engineering creations.
Half-way between these two ends of the spectrum are Applied Engineers.
Applied Engineers design and conceptualize new technological devices, but they also get their hands into the processes of building, operating, and maintaining. They have much of the knowledge and skills of a traditional engineer, but also have the know-how and advanced skills of a technician.
These are exactly the types of programs that we'll explore today.
They focus on developing critical thinking skills and strategies using creativity, analysis, reason, logic, and decision making. Millersville's programs in particular allow students to take courses in various areas such as machine work and metal working, construction, materials processing, robotics, electronics, and other technical fields.
In short, their degrees teach students HOW to think not WHAT to think, and they also provide opportunities for hands-on engagement and professional growth.
---
For a brief overview of how each of their Engineering programs is different, see their website.
---
The Bachelor of Science in Applied Engineering and Technology Management (AETM)
There might be many Applied Engineering programs in the United States or at good universities around the world, however, not every one of them will incorporate managerial skills into their courses.
Millersville does. And that's one of the key aspects to keep in mind when reviewing and comparing various Applied Engineering programs. After all, a good engineer can work with technology, but a great engineer can work with people as well.
For this reason, Millersville's undergraduate programs blend technical knowledge with managerial coursework so that students can learn, think creativity, build, and refine processes with colleagues in a work environment.
Run out of their Department of Applied Engineering, Safety & Technology, you'll find nationally accredited degree programs designed to prepare students for a successful career. Each program combines theoretical instruction with hands-on, experiences.
"My classes challenged me to become a quick and effective learner, and the hands-on experiences gave me an edge over traditionally prepared engineers," explained Jordan Drexel, Class of 2015. Jordan earned his Bachelor of Science in Millersville's Applied Engineering & Technology Management program (AETM) with a concentration in Robotics & Control Systems Technology. He now works as an Electrical Engineer in Georgia.
He added, "The clubs and labs helped me to learn how to participate as a team member, and that has carried forward into my career as I effectively interact with people with different experiences and backgrounds."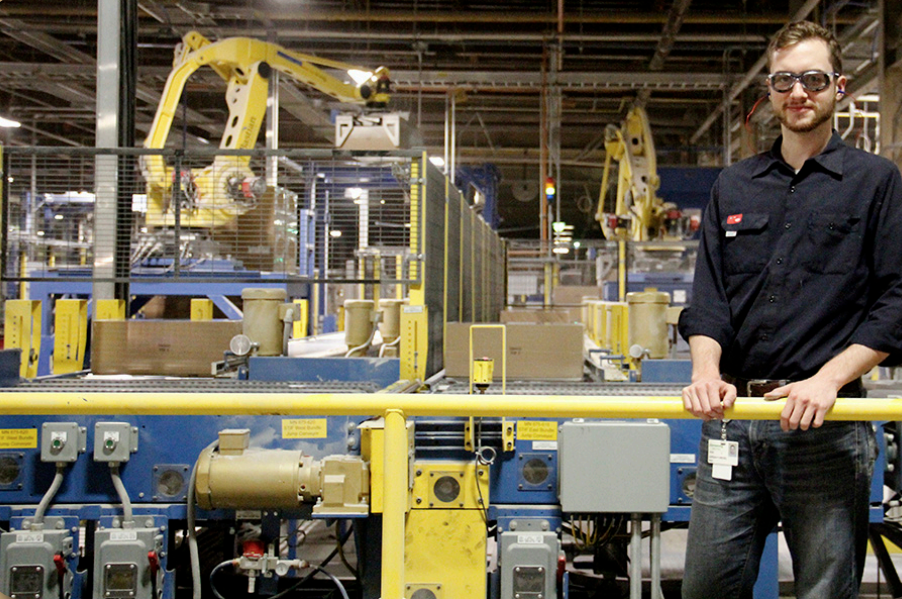 With 17 labs on campus, you'll have access to countless chances to gain practical, hands-on experience with technologies found in companies today. And your coursework will give you a broad perspective of what technology and engineering is and what it does, as well as enable you to acquire deep knowledge in the applied engineering concentration of your choice, such as:
Advanced Manufacturing Technology
Computer-Aided Drafting & Design (CADD)
Construction Management
General Technology
Graphic Communication
Nanofabrication Manufacturing Technology
Robotics & Control Systems
Gilbert Ramos, now a Manufacturing Engineer at Harley-Davidson Motor Company in Missouri, reflected back on his time at Millersville: "The high expectations of the professors and their drive to develop 'out of the box' and analytical thinking skills are what I believe to be the biggest takeaways. My classes had all of the expectations of real-world experiences in the work force. Assignments and deliverables were expected to be presented in a form that is suitable for a professional environment."
"The culture at Millersville University drives motivation, teamwork, and comradery. The many team projects and constructive competition, the skill of working as a team - rather than an individual - came very natural."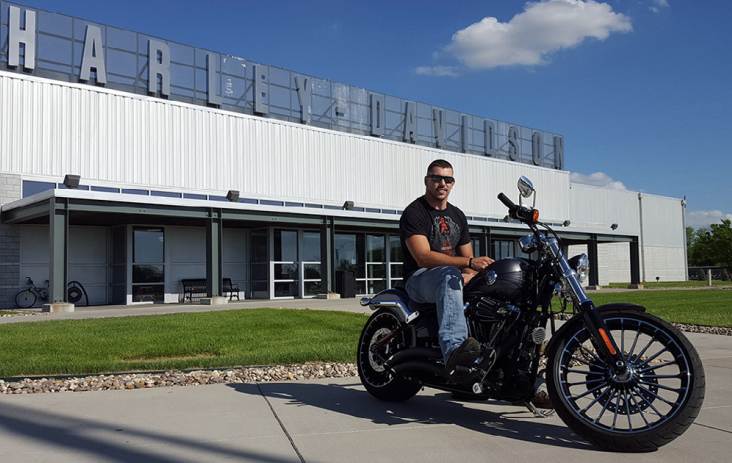 Applied Engineering, Safety & Technology (AEST) at Millersville University
The second program we're shining the spotlight on today is the Bachelor of Science in Occupational Safety & Environmental Health (OSEH).
This is one of seven undergraduate programs run out of Millersville's Applied Engineering, Safety & Technology department.
The OSEH program will help you become a well-rounded professional capable of protecting employees and the general public from work-related injuries and illnesses, while also protecting company assets and interests. You'll explore topics such as:
Accident investigation
Safety management
Environmental health
Ergonomics
Fire science
Under the care of nationally renowned faculty mentors, you will have many opportunities to conduct undergraduate research and you'll also participate in an internship in your final year of studies.
"One of the most important things I learned from my OSEH program is how to conduct myself in a professional manner. I learned how to be open to new ideas and points of view on various safety subjects and beyond. I am able to face daily challenge with confidence because of the comprehensive and stringent preparation the OSEH program at Millersville offers," said Millersville ISEH alumni Monika Buchanan.
Colby Zeger, a 2014 graduate with a degree in Occupational Safety and Environmental Health, agreed: "Millersville has helped me grow as a person and has taught me how to organize my time. The school has great opportunities to succeed and pushes you academically."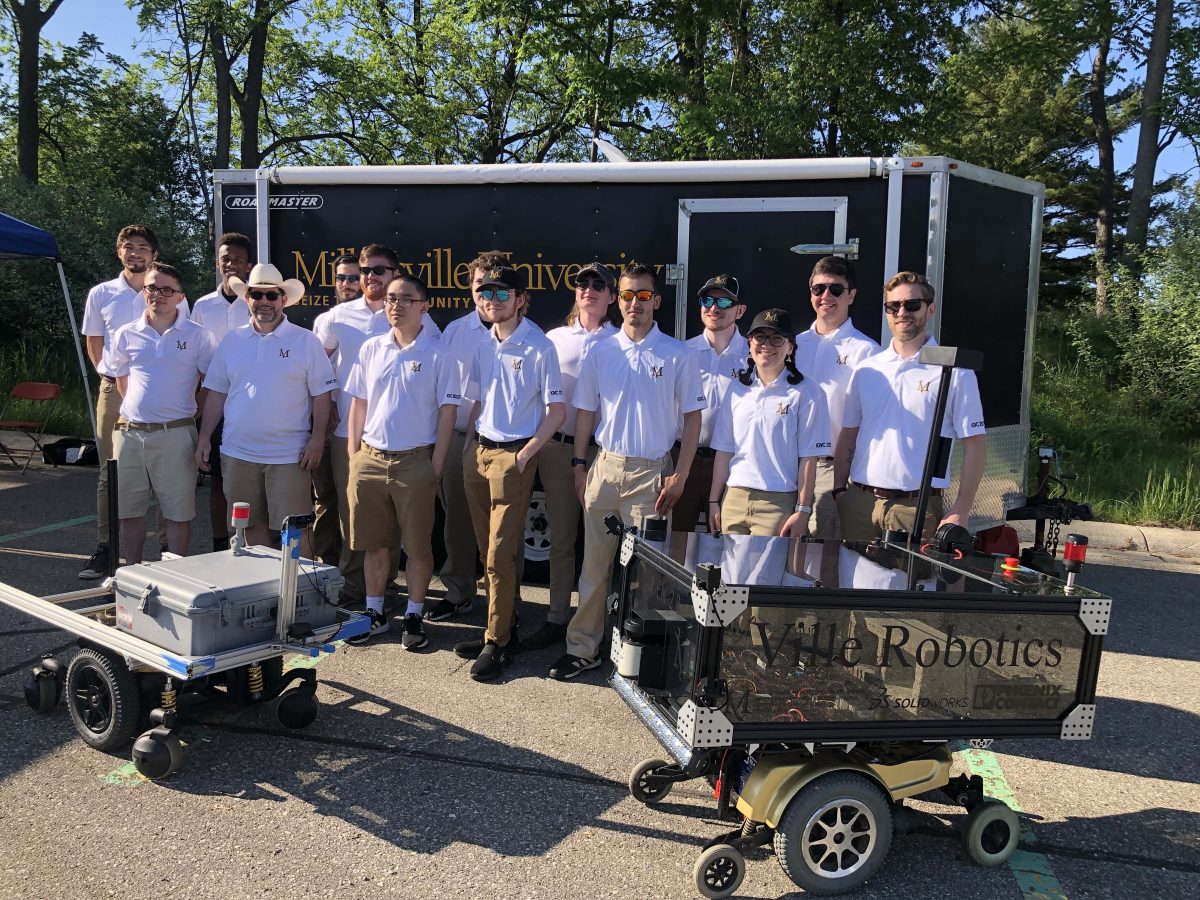 Student Organizations with a Focus on Applied Engineering, Safety and Technology
Out of the 130+ student clubs and organizations on campus, there's truly something for everyone. And there are even 8 dedicated student-led groups for students with a passion for engineering.
As a member of a student club, you will regularly participate in field trips, professional conferences, competitions, service projects, social events and more. By participating in these types of clubs, you'll be able to connect with your fellow students and other community members who share your interests and dedication to safety in the workplace, technological innovation and the latest engineering applications.
What kind of career can you get with an applied engineering degree?
There's a wide range of jobs you can walk into upon graduating with a degree in Applied Engineering, such as:
Control System Specialist
Product Designer
Senior Quality Analyst
Product Design Engineer
CNC Programmer
Industrial Control Designer
Fire Safety Coordinator
Corporate Safety Officer
Process Flow Engineer
Design Engineer
Manufacturing Engineer
For a little more inspiration, have a look at the chart below from Millersville which shows the job titles and salaries their students had upon graduation, and then reveals their current roles and earnings.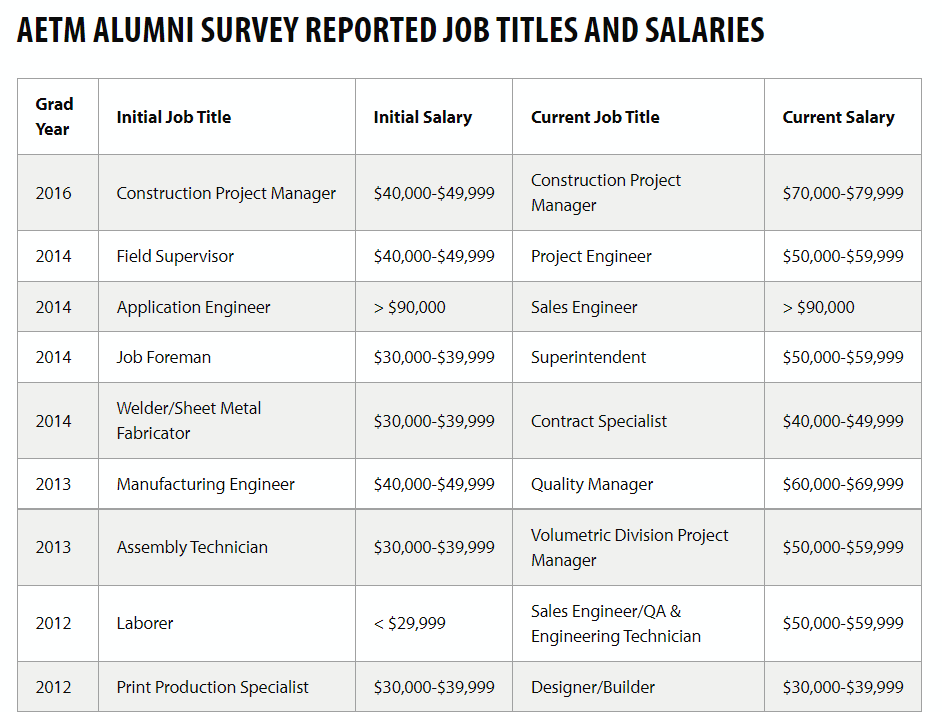 Admission to engineering programs is competitive, so don't delay! Fill in the form below and you can learn even more about how to enrol at Millersville University.