Making the decision to live one of the most important stages of your life in a foreign country can be the first step of a life full of opportunities and successes both personal and work-related.
Although it may seem far away, making your dreams come true is easier than it seems. It is understandable to have doubts or feel afraid when it comes to starting a study abroad process. In this case, we recommend you start your journey looking for all kinds of information: academic advice, destinations of your interest and the requirements to study abroad.
The stories and references of people who have completed a study process in another country can also be of great help to solve your doubts and to give you some inspiration when starting your own process. Here we give you these four personalities of the world elite who lived a part of their life studying abroad.
Malala Yousafzai - Nobel Peace Prize
The youngest winner of the Nobel Peace Prize, Malala Yousafzai of Pakistani origin, received recognition in 2014 at the age of 17. She is known as an activist in favor of civil rights and for upholding the rights of women.
The young prodigy started a movement with international support that defends women's access to education. This project arose from the prohibition of school attendance on hundreds of girls in Khyber Pakhtunkhwa province in northwestern Pakistan by the Taliban regime.
On October 9, 2012, Malala was the victim of an attack, in which she received three bullet wounds. As a result of her delicate state of health she arrived in England where her recovery process began.
After a long and constant struggle to defend her ideals, Malala made history around the world contributing to the ratification of the right to education in her country of origin in 2015. However, the dreams, aspirations and the struggle for education of the world's youngest Nobel peace prize continue.
Currently, she lives in the United Kingdom and on August 17, 2017 she announced on her official Twitter account her admission to the Oxford University  in the United Kingdom, in which she advances her studies in Philosophy, Politics and Economics.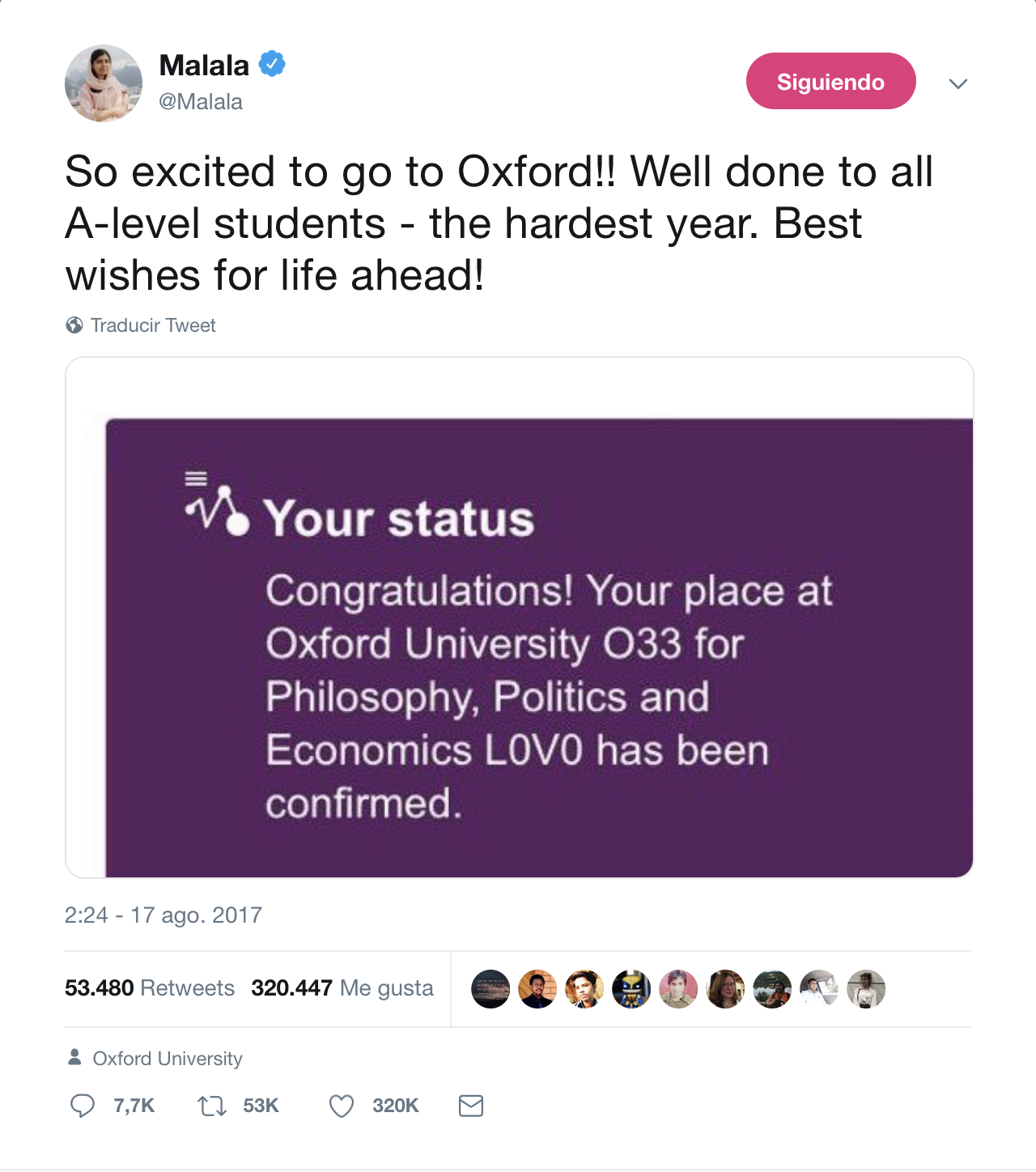 Malala like many other personalities of the global elite, made her dream come true by studying in a foreign country. Although in many countries of the world, access to education for women is now a reality. She continues her struggle, empowering the female gender and promoting education for all without barriers or limits.
What are you waiting for… to change the world? Take the risk to study abroad!
Felipe VI - King of Spain
Felipe VI proclaimed King of Spain since 2014, is one of the great personalities of the Spanish monarchy. From his birth he was destined to be the head of state of the country and with the passage of the years he was preparing for his rule.
There are many aspects that govern the personal and academic training that the monarch of a country must have. At the decision of his parents, Felipe studied at the Santa Maria de los Rosales School in Madrid until 1984. He subsequently completed his University Orientation Course (COU) at the Lakefield College School in Ontario, Canada.
Regarding his studies of higher education, the king returned to Spain to pursue a degree in Law at the Universidad Autónoma de Madrid and by his own decision he chose to emigrate from his country and ventured to live a period of his life studying abroad.
Washington D.C. and Georgetown University became the home of Felipe of Borbón for two years between 1993 and 1995. There the king studied and successfully completed a master's degree in International Relations at the Walsh School of Foreign Service at age 27.
This stage of studies significantly marked the life of the king. It helped him become a responsible, intelligent and ethical monarch for the Spanish people. In addition to providing countless benefits for his personal life, Felipe had the opportunity to improve his language skills in the universal language, English.
His master's in Georgetown marked the end of his academic training and prepared the king to join the institutional life of the Spanish crown. Undoubtedly, Felipe VI's studies in International Relations have been a fundamental element for the development of Spanish missions abroad, as well as to strengthen the nation's relations with the neighboring countries of the European Union.
Catherine Middleton - Duchess of Cambridge
Catherine Middleton or also known as Kate Middleton is part of the British royal family. The Duchess of Cambridge is the wife of Prince William since October 29, 2011.
Undoubtedly, Middleton is not far behind when education abroad is spoken. Passionate about languages, Catherine M. decided to leave her country of origin to take an Italian course for three months at the British Institute in Florence. During her stay at the institute in Italy, the Duchess had the opportunity to live with a strong academic community and enjoy the spaces in which British and Italian art, history, literature and music played a fundamental role.
Studying in Italy allowed her to experience the essence of the country, its traditions and customs. She visited the most iconic places in Florence and was part of a strong cultural exchange between Britain and Italy.
Months later at the end of her gap year, Middleton began her studies of higher education at age 19 at the University of Saint Andrews in Scotland by enrolling in a History of Art program. During her time at the university, Kate stood out for her constant participation in extracurricular activities and, without having planned it, she met Prince William with whom years later she would marry.
Her stage of academic training was fundamental so that Catherine Middleton became the Duchess of Cambridge that we know today. Studying abroad not only gives great experiences to people of royalty. Venture to discover your own world studying abroad and build your own experiences.
Juan Manuel Santos - Nobel Peace Prize
Juan Manuel Santos was President of Colombia between 2010 - 2018. After a long political career in which he held positions as Minister of Foreign Trade, Minister of Finance and Public Credits and Minister of National Defense of Colombia and so on. Santos left a mark on the history of the country.
On September 26 of 2016, under the rule and direction of Santos, the peace agreement with the FARC army was officially signed. This agreement gave rise to a bilateral ceasefire and the abandonment of arms that put an end to the Colombian armed conflict and gave way to a period of recognition and reparation for the victims of the war for more than 50 years.
This is perhaps the most important achievement of the ex-governor political career. In addition, having marked the history of Colombia, Santos was awarded the Nobel Peace Prize in 2016. Without a doubt, most of his achievements are due to his hard work and his long career of academic training.
Juan Manuel began his studies of higher education at the University of Kansas in the United States. There he studied two undergraduate programs in Economics and Business Administration. These were his first steps of what would be long years of education abroad, his time at the University of Kansas was not enough for him, so he decided to continue his studies in England.
Santos traveled to London where he completed a master's degree in Economics and Economic Law at the London School of Economics. As a result of this educational process, Santos was directing his career towards the political sphere. His stay in the United Kingdom allowed him to expand his academic training and develop relevant skills to be the future head of state in Colombia.
Finally the peace Nobel decided to take another step during his apprenticeship, where he returned to the United States to pursue a master's degree in Public Administration at Harvard University, one of the most prestigious and best-ranked universities in the world located in the city from Cambridge, Massachusetts.
--
Studying abroad can attract great benefits for your life. There are countless possible study destinations, educational institutions such as colleges or universities and courses or programs of all disciplines and areas of study in which you can train.
No matter in which part of the world you are, there is much more than you can imagine waiting to be discovered by you. Venture to find the geographical, gastronomic and cultural wonders that different countries around the world have to offer you.
Deciding to study abroad can be the first step you must take to achieve all your educational goals. Expand your knowledge, develop different skills, diversify your perspectives, make friendships that last for life and train professionally to change even a small part of the world.
Who do you expect to be the next winner of a Nobel prize or to leave a mark on the history of your country? When it comes to studying abroad nothing is impossible and the limits are just a state of your mind.
Study, Travel and Discover a world totally within your reach.