John Cabot University is uniquely positioned to offer quality American academic options in Europe. 
John Cabot University delivers a distinctly American learning experience while being located in the center of Rome, Italy. In fact, the Roman setting enriches the university's over 1,000 international students, leading to graduates that are knowledgeable, confident and comfortable in a wide range of settings.
If you are looking to study at an American institution, while remaining able to access and explore one of Europe's most beautiful cities, please fill in your details below to find out what the next steps you need to take are.
An American Liberal Arts University
While located in Europe, John Cabot University is a US-accredited American liberal arts institution and all of its courses are taught in English, except for foreign language courses, obviously.
"But what is an American liberal arts university?", you may ask. 
Study at a liberal arts university focuses on the development of intellectual skills including creativity, critical thinking and strong communication. It is vital in our modern society to be able to research, analyze and utilise the vast amount of information that is available to us.
Following the American model of a bachelor's degree, all students at John Cabot University must complete general proficiency requirements across a wide variety of subjects, including English, Mathematics, Science, the Humanities and Fine Arts. Typically, students complete these during the first two years of study, during which time they can also explore different subjects that interest them before committing to a major field of study, of which John Cabot offers the following:
John Cabot University has 14 majors and 18 minors, and students have the ability to mix and match as they wish. For example, it is possible to double-major in Communication and Political Science with a minor in Legal Studies or Art & Design. As such, graduates of JCU are more complete and developed citizens, with a wider range of skills than those who only study a single subject.
Another facet of American liberal arts universities are just how personal they are capable of being. In many major universities, students may be lucky to individually meet their tutor once every few weeks. At JCU, students are assigned a faculty advisor, who not only guides the choice of courses, but can provide help on internships, graduate school decisions and jobs.
Class sizes vary between 10 and 25, with an average of 15. Every student at John Cabot University gets to know their professors and can engage with the faculty and their fellow students more frequently and personally, with classes maintaining lots of student participation. In this way, the student will become more comfortable and confident both in their knowledge and ability to communicate proactively with others.

JCU's faculty is also internationally diverse, reflecting the student population, meaning that no matter where you are from, for those times you need to speak with someone in your own language, there will more than likely be someone to support you.
John Cabot University welcomes all students. They do not discriminate on the basis of race, colour, nationality, religious affiliation, sex, age, sexual orientation, marital or parental status, or disability. They also offer a generous scholarship program. In fact, over 85% of undergraduates at JCU receive a scholarship or grant.
Beyond John Cabot University and Graduation
Rome becomes your campus when you study at John Cabot. The university conducts a series of trips and activities every semester that introduces students to the many facets of Italian culture, its history, architecture, art and more. And of course, Rome being home to so many vital artifacts means there are frequent opportunities to rest your own eyes on the very thing you are studying.
Meanwhile all the riches that Italy can offer, the weather, the food, the people, are here in abundance.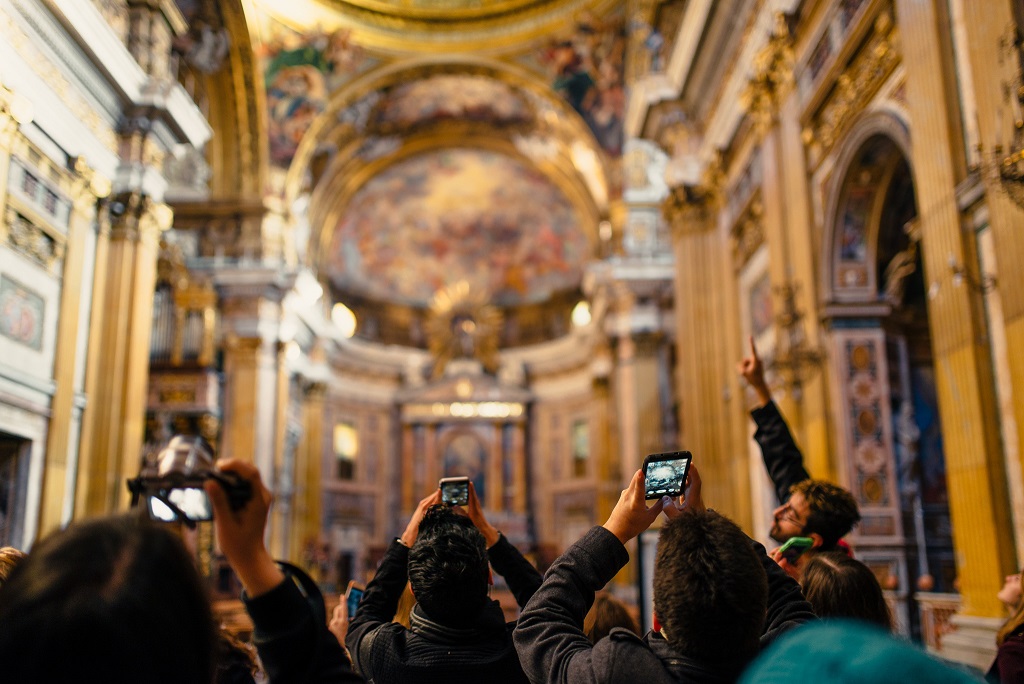 Beyond the joys of living and studying in Rome, an important consideration is how the university supports its students in finding a career. Thankfully, John Cabot University's Center for Career Services (CCS) has partnerships with over 650 leading organizations to provide competitive internship opportunities to its students. 
The CCS continues to support JCU alumni after graduation in applying for graduate programs and finding work. Additionally, the Institute for Entrepreneurship helps students launch business ideas while business representatives frequently visit the classroom so that students can gain real-life, hands-on experience with actual clients.
A degree from John Cabot University makes you stand out and prepares you to work comfortably and confidently in the international workplace, having spent four years in classrooms with students and professors from so many places around the world.
To take this step and enjoy an American level education while being able to enjoy one of Europe's most beautiful cities, please fill in the form below.