Vietnam is growing. With growth comes opportunity and opportunity begets a successful life for any potential student.
Since the mid-1980s, and the economic and political reforms enacted under Đổi Mới, Vietnam has moved from having one of the smaller economies on the planet, to being one of the fastest rising; a Tiger Cub economy, included in HSBC's predicted list of top economies for 2050 and Goldman Sach's Next Eleven list of high potential economies due to its rapid growth.
A growing economy requires talented and bright students, from all across the world and so in recent years, Vietnam's higher education sector has grown significantly, offering students great opportunities that are difficult to find anywhere else.
FPT University, for example, was developed by Vietnam's largest information technology service company and one of the largest businesses in Vietnam full stop. With locations in Hanoi, Ho Chi Minh City, Can Tho and Da Nang, FPT University serves tens of thousands of students a wide variety of programs. And it continues to grow, especially with regard to international students, whom FPT University provide with competitive scholarship opportunities.
Let us take a closer look at the courses that FPT University have to offer and why choosing to study in Vietnam could be the perfect match for you.
Why Vietnam?
Vietnam is one of the most naturally beautiful countries on the planet. From its tropical lowlands, to its forested mountains, Vietnam offers a diverse array of gorgeous sights. You can choose to discover scenic national forests, immerse yourself in heavenly beaches, or visit a historic palace to learn more about Vietnamese history.
Visitors should also not miss out on the authentic cuisine, exceptional architecture and shopping opportunities. Whether its sightseeing, eating, or shopping that you love, Vietnam will impress as it offers an abundance of different things to do!
In addition to being home to one of the most fastest growing economies of the world, Vietnam has tonnes to offer international students, as we can see here:
Language - University courses are frequently taught in English, and FPT University is no different, so if you are a fluent English speaker, or wish to improve your English, Vietnam could be just the place for you.
Locations­ – With a fast-growing economy, Vietnam's cultural and business hubs are becoming some of the most attractive places in the world to live, work and study. In fact, Ho Chi Minh City (2nd) and Hanoi (8th) have recently been listed among the Top 10 Most Dynamic Cities in the World in JLL's City Momentum Index.
Affordable – Living in Vietnam is inexpensive, especially when compared with the US, UK or Japan, and, on average, you can live comfortably in Vietnam for just a few hundred dollars (USD) each month.
Friendly People - You will be charmed by amiable Vietnamese people everywhere you go. Their cheerful and easy-going manners will make you feel at home from your very first day in Vietnam.
Fascinating Landscape – Visitors to Vietnam are understandably attracted to Hanoi, Da Nang and Ho Chi Minh City and from these places or beyond you can be amazed by the country's breath-taking natural beauty and enchanting cultural experience.
Visa Support – Vietnam's Ministry of Foreign Affairs has issued visa exemptions for citizens of 24 countries up to 30 days. Citizens from other countries can easily apply online for visas to Vietnam.
Safe and Stable - Vietnam is one of the safest countries in the world, with peacefulness ranked as High by the Global Peace Index.
Vibrant Social Life - From classy clubs to street food stalls, from casual bars to live-music venues; Vietnam always has something to offer. Big cities like Ho Chi Minh City and Hanoi are full of lively pubs, clubs and bars. You'll never be bored!
Programs Held to an International Standard
Starting your career on the right foot will make your path in life that much sweeter and keep you that much safer. That is why FPT University offers its degree programs in two of the highest-paid professions: Software Engineering and Business Administration.
In addition, the university runs a collaborative program with the University of Greenwich, a United Kingdom-based university. Offering degree programs in both Business Management and Computing, students of FPT Greenwich can achieve a world-class education at a fraction of the price.
If you are interested in studying at FPT University and seeing the delights that Vietnam has to offer, then register online here.
FPT University- Business Administration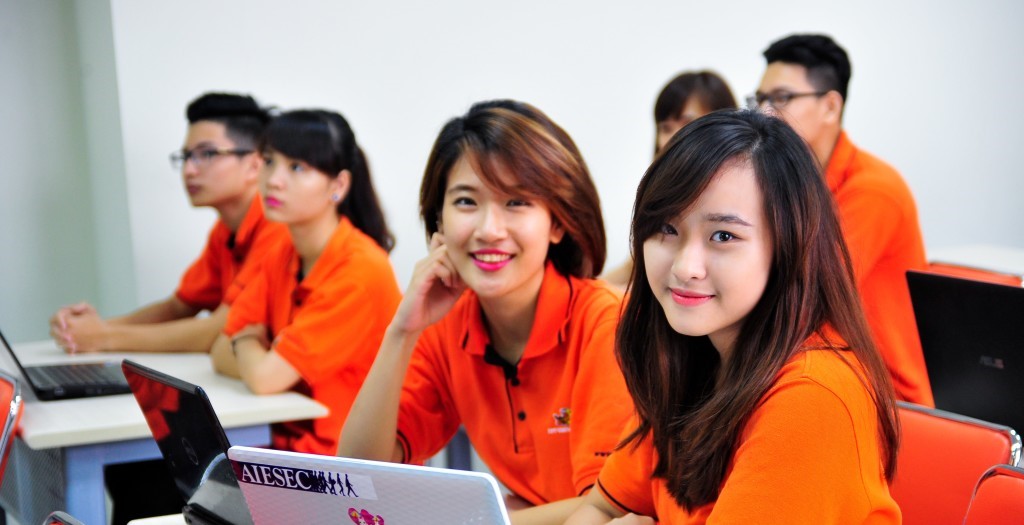 Learn how to deal with complex issues, lead teams and make business decisions while prioritizing financial, marketing and human resources tasks across a variety of organizational structures.
At FPT University, students of Business Administration are taught how to earn money, how to increase profits, and how to enter the marketplace. "I do not see much difference between FPT University and universities in the US," said Dr. Everrett Myer, Head of Corporate Finance Department at New York University, USA. "All ages, from young to old people need education to improve and realize their dreams. In my opinion, this is a source of knowledge to help them do that".
This program aims to develop a student's business acumen and management capabilities through an innovative and internationally recognised program built on the expertise of the leading professionals in the discipline.
Students will have advanced training in accordance with international ACBSP accreditation standards in business and management training, dynamic learning environments and modern technical infrastructure. This will help improve management skills including business planning, product distribution strategy, price policy, market research, product marketing and brand communication.
Understanding the demand for human resources of enterprises in Industry 4.0, FPT School of Business has opened a program on Digital Marketing, which is in high demand from both students and businesses.
FPT also offers on-the job-training for most of its courses, including Business Administration. On-the-job training creates opportunities for students to join real projects, real international working environments and gain valuable hands-on experience. This optional module brings the competitive edge and highly increases the chance of gaining employment after graduation.
FPT University- Software Engineering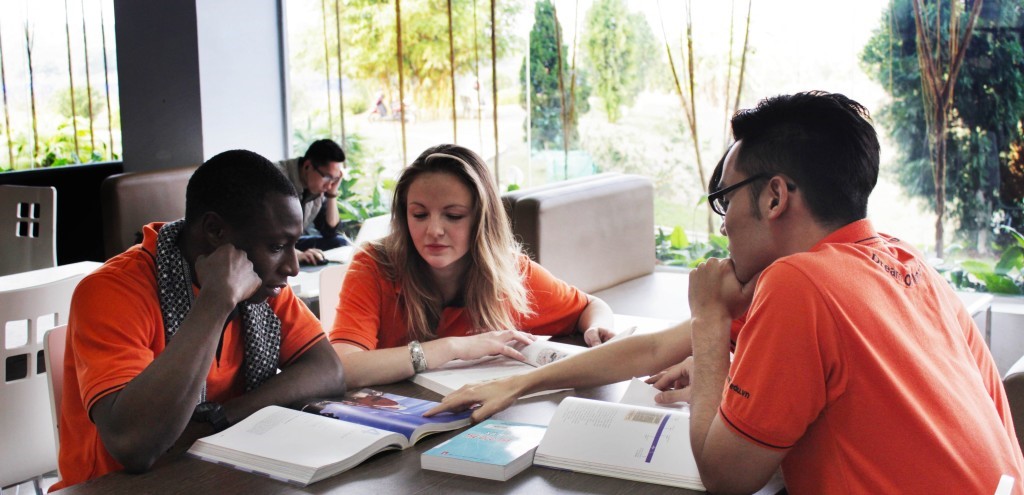 The program develops skills to enable you to design, code, test and manage large quality-measured software systems.
This program aims to develop students' business acumen and management capabilities through an innovative and internationally recognized program built on the expertise of the leading professionals in the discipline. This program will:
·     Prepare students launching their career at a global level.
·     Play a fundamental role in companies and organizations by providing students the technical knowledge and leadership skills needed in the Finance, Entrepreneurship, Marketing and International Business sectors.
·     Provide an international environment and connections to the business world that will enable students to lead a successful career in the world's top corporations or to set up their own business.
FPT University also looks to provide its students with ample opportunities to make their career a success by providing both extracurricular activities, such as the recent Google I/O conference held in Hanoi.
Google I/O Extended Hanoi is an extension of the annual Google I/O held in Mountain View, California. With nearly 20 topics related to the most notable technologies such as Machine Learning, IOT, Web Technologies, Cloud, VR / AR, and more, this was a great opportunity to meet the needs of future programmers in particular.
Short Courses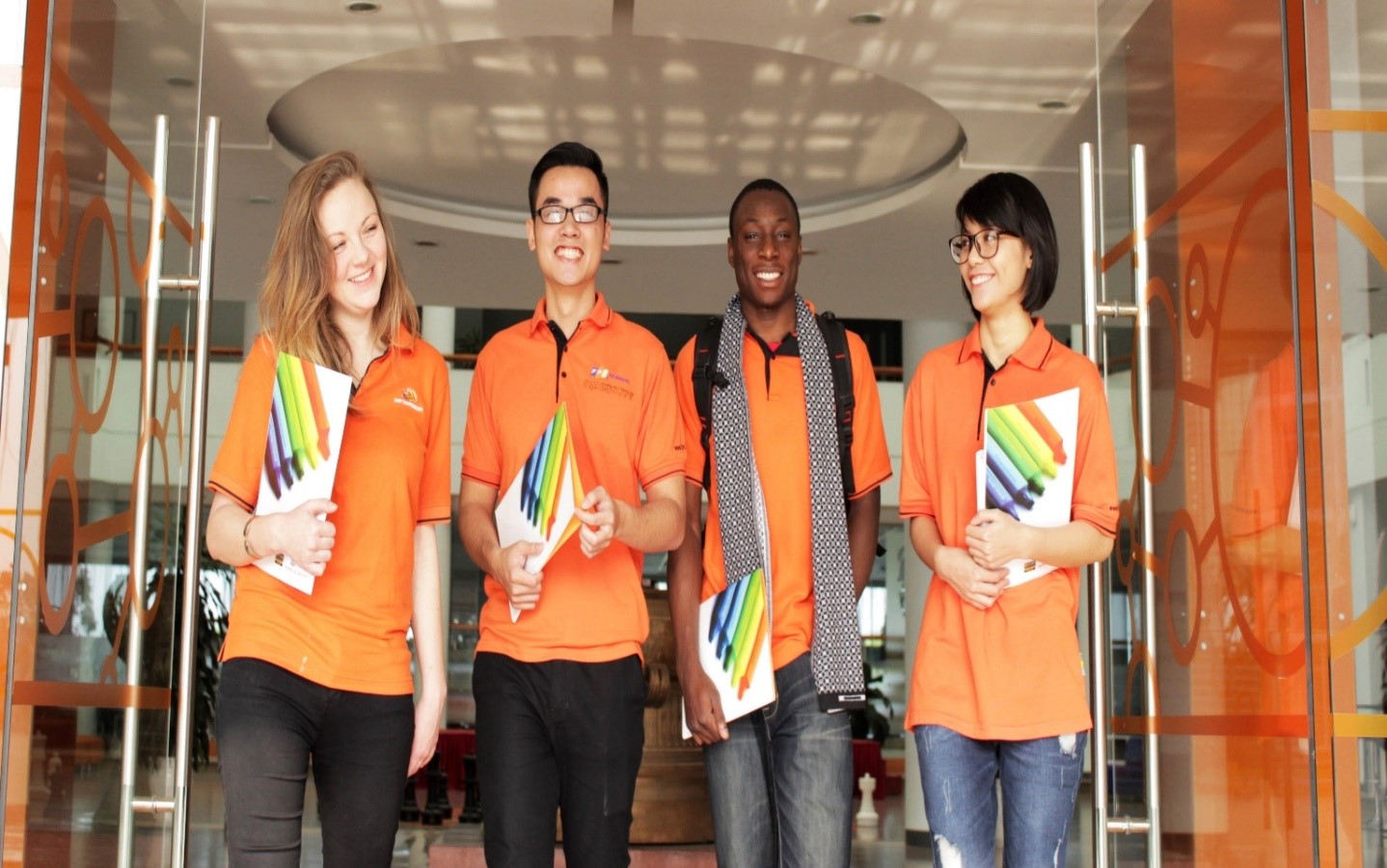 Students from around the world are welcome at FPT University.
Hundreds of students from all around the world come to FPT University for Exchange, Study Abroad and Internship programs every year.
FPT's short term programs are tightly focused on creating a globalized environment to nurture cross-culture exchange and knowledge-share among mobile students. Accordingly, FPT always endeavours to get students involved in highly interactive classes and enrichment activities and to support them with modern facilities and necessary resources.
The academic program is neatly designed to match the needs of a variety of disciplines. Through Study Abroad Programs, FPT hopes to make a contribution to the education of global citizens in a globalized world.
FPT Greenwich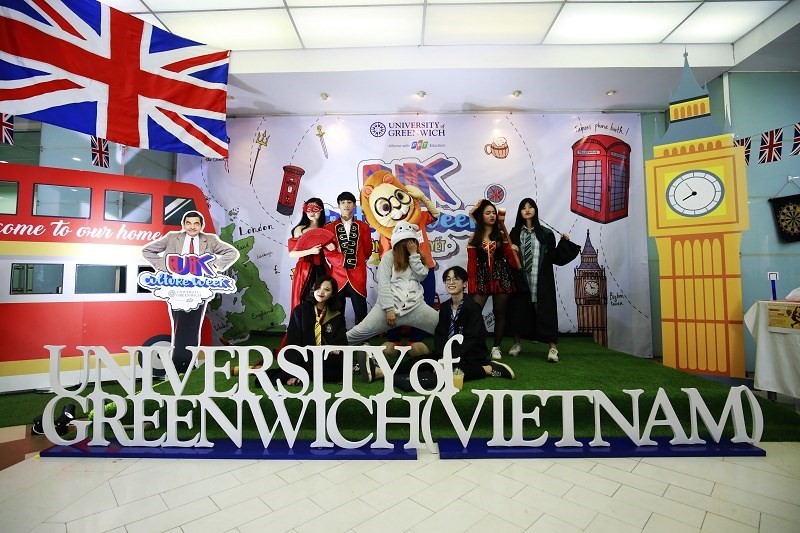 British culture and education makes its way to Vietnam via FPT University.
FPT Greenwich offers degrees in Computing and Business Management. Students that participate in this program will receive the same degree as those who study on campus at Greenwich, United Kingdom.
Compared to studying in the UK, FPT Greenwich's tuition fee is a third of what it costs to study in the United Kingdom, or other comparably developed countries.
The courses offered by FPT Greenwich are under regular supervision of the University of Greenwich and provide students with industry-related, up-to-date knowledge, certified by international standards. Something that is required for entering the highly competitive employment market.
Graduates from FPT Greenwich have a high chance of finding employment in many areas of business, such as IT Management, Business Computing consultancy, Project Management, Internet and e-Commerce Applications, Marketing Executive, Event Manager, Financial Executive and many others.
If you are interested in studying at FPT University or FPT Greenwich and seeing the delights that Vietnam has to offer, then register online here.
Why Students Should Consider FPT University
With the philosophy of being a new university generation with a modern educational outlook, FPT University aims to bring realistic training and education for students. The notable value of FPT University is the close cooperation with business that can combine training with reality and the most modern technologies.
If you are wondering how FPT University can run such affordable courses without sacrificing the quality, then fear not. The university has a multitude of qualifications attesting to the international standard of teaching and qualifications offered. This includes being an Associate Member of ASEAN University Network-Quality Assurance (AUN-QA), a non-profit organization in Quality Assurance Training intended to harmonise educational standards and seek the continuous improvement of academic quality of universities in South-east Asia.
Previously, FPT University became the first university in Vietnam to be ranked 3 stars by QS World University Rankings. In June 2016, the university became a member of ACBSP. In April 2017, it became a full member of the CDIO Association.
Recently, FPT University was officially recognized as a member of the Association to Advance Collegiate Schools of Business (AACSB).
As a member of AACSB, FPT University is recognized as a member of the world-class business education network. With the potential, internal strength and support of AACSB, FPT University will continuously improve the quality of education and training of business sectors, expanding cooperation and connection with its members and organizations all around the world.
Currently, FPT University is also a member of ACBSP (Accreditation Council for Business Schools and Programs). AACSB and ACBSP are the two organizations that accredit the most prestigious business training programs in the United States and in the world.
According to the statistics, 98% of students have jobs after 3 months of graduation and their salary is 27% higher than the normal level. Among them, 31% have worked for FPT Corporation while 4.5% started up their businesses and 19% worked in foreign countries or foreign companies.
With a rapidly growing economy, phenomenal job opportunities a blissful culture, all at an affordable price, it is time that students begin paying closer attention to what Vietnam can offer you.
So you will now have seen just some of what Vietnam and FPT has to offer. If you are interested in studying at FPT University and seeing the delights that Vietnam has to offer, then register online here.
Contact FPT University
Phone: +84 24 6291 5066
Email: [email protected]
Hotline: +84 165 423 5298 (WhatsApp, Viber, Line)
Website: international.fpt.edu.vn