Florida is an international community where you can find students from around the world.
If you are interested in developing your English skills and studying in Florida, consider the English Language Institute at Florida State College at Jacksonville.
To see how you can study English in Florida, contact FSCJ via the form below.
Living and Studying in Florida
Florida is one of the world's most popular holiday destinations, for its history, nightlife, shopping, spectacular natural sights (such as the Everglades and Florida Reef), its renowned beaches (Daytona or Miami Beach, for example) and of courses theme parks, like Walt Disney World, Universal Studios and SeaWorld.
Beyond the tourist attractions though, Florida has exceptional warm weather (it is known as the Sunshine State for a reason!), affordable property costs, great travel links and an incredibly friendly populace.
For students though, perhaps the most important consideration is the strength of Florida's colleges and universities, and luckily Florida does not disappoint. In the state's northeast is Florida's most populous city and the largest in the contiguous United States: Jacksonville. Jacksonville is home to Florida State College at Jacksonville, a public college we here at Viva Mundo would like to highlight for you today.

FSCJ's Deerwood Centre
Florida State College at Jacksonville's reputation is as the largest and most influential higher education institution on Florida's First Coast. Founded in 1965, FSCJ has gone on to cover four campuses across Jacksonville, offering 13 bachelor's degrees, 45 associate degrees and more than 100 technical certificates and workforce certifications. Each campus features a library, multiple computer labs, a learning center for extra support when you need it, a career development center, and an assessment and certification center.
FSCJ provides a highly valued, lifelong education which enhances the intellectual, social, cultural and economic development of both Jacksonville and beyond.
But to study effectively in Florida, or the United States in general, your English language skills have to be at the appropriate level.
English Language Institute
FSCJ's English Language Institute provides intensive, high-quality, non-credit instruction to non-native English Language speakers.
As well as proficiency in English as a second language, the English Language Institute helps students grasp a better understanding of American culture. You will be provided with a stimulating and supportive environment that provides a meaningful learning experience.

This program serves non-degree seeking F-1 international students. However, if you wish to use your experience at the English Language Institute to springboard into a degree program, the ELI staff can assist you, not only with English instruction, but with advice on U.S. college admissions.
Rest assured that successful graduates of the ELI acquire an English foundation that serves them well in degree programs at Florida State College at Jacksonville or other higher education institutions. This program includes 20 hours of instruction per week for 13 weeks, a diverse curriculum (grammar, reading, writing, listening and speaking), and local cultural immersion activities.
One such recent trip includes a tour of the TIAA Bank Field, an American football stadium that is home to the Jacksonville Jaguars of the NFL. Students toured the press box, owner's suite, and other parts of the stadium during the tour.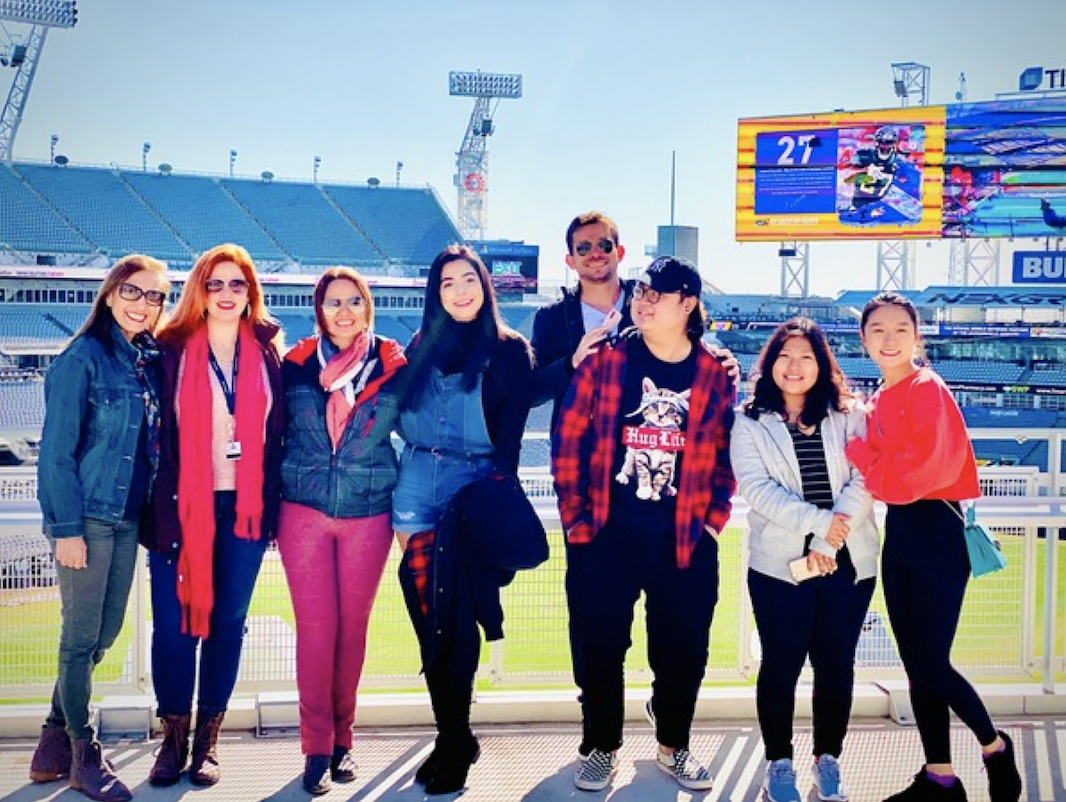 English Language Institute students take a trip to TIAA Bank Field
The tour was one of several field trips that the Institute takes throughout the term to immerse students into American culture while providing intensive non-credit English language instruction to non-native English language speakers.
Life in Jacksonville
Moving to a new city can be intimidating, but thankfully Jacksonville remains one of the easiest places in the United States to get accustomed to.
Natural Sights and Beauty
Florida as a whole is known for its beautiful weather and beaches, and Jacksonville in particular is no different. Jacksonville Beach, Neptune Beach, and Atlantic Beach are among some of the region's best.
Jacksonville is also home to beautiful parks and waterways, including St. Johns River, the longest river in Florida. Jacksonville was built around it, and has a culture surrounding and dependent on the impressive St. Johns River.
Activities and Museums
Jacksonville's pleasant weather means that many outdoor activities have a real home here, including golf, boating, fishing, and shopping.
If you prefer the indoors though, many restaurants, performing arts, museums—such as the Museum of Contemporary Art Jacksonville, the Cummer Museum of Art and Gardens, and the Museum of Science and History—are just a short distance from Florida State College at Jacksonville's downtown campus.

Jacksonville Jazz Festival
Annual Cultural Events and Festivals
The Jacksonville Jazz Festival, held each April, is the second largest jazz festival in the United States, while the Springing the Blues Festival is one of the largest and oldest Blues festivals on the East Coast. Other major events include the Jacksonville Film Festival in May; the Freedom, Fanfare & Fireworks celebration in July; and the Greater Jacksonville Agricultural Fair in November.
Shopping
St. Johns Town Center, Orange Park Mall, and the Avenues Mall are popular malls where you can enjoy shopping for every taste and budget. St. Augustine Premium Outlets is located less than one hour away from downtown.
--
To learn more about studying English in Florida, contact Florida State College at Jacksonville via the form below.