Understanding the Benefits of Purpose Built Student Accommodation (PBSA) in London
When it comes to finding a place to live as a student in London, there are lots of choices. While some international students may decide to live with a host family or in a flat share, you might find that a PBSA is the best solution for you. Why? These modern, clean buildings offer students a high quality living experience and a great deal of flexibility when booking.
One such PBSA is Londonist, which has an impressive variety of 24 locations across London and representatives all around the world, so there will always be someone in your time zone who can help you (and speak your language too!).
Get info from one of the best-rated student accommodation providers in London by filling in our quick form below, and continue reading to find out what you need to consider when finding and booking a place to live in London.
Since Covid-19, what's changed when booking student accommodation in London?
Although a lot has changed since the pandemic, one thing that hasn't is that international students coming to London are looking for a comfortable place to live and a memorable study abroad experience. With a room at a Londonist location, you're sure to have a great student lifestyle and stay in a place that's built specifically for students. That means that not only are the buildings designed to suit your needs, but their policies are too.
For example, you don't need to get locked into a long contract, which can be typical with private landlords or letting agencies. Instead, you have complete freedom and flexibility with your student accommodation booking – you can book for as little as two weeks and simply extend as needed. This type of flexible booking policy was hugely beneficial for international students when managing their accommodation arrangements during Covid-19.
Here at Viva-Mundo, we know that some international students have reduced budgets for the year ahead, so finding an affordable, safe place to live in London has been harder for them. Luckily, there are lots of solutions if you know where to look!
If you're looking for affordable accommodation options in London as a result of the pandemic, then you should definitely consider a PBSA such as Londonist. The total cost of staying in Purpose Built Student Accommodation can often end up being cheaper than living in a house share and it's definitely more affordable than renting on your own. Plus, your bills are all included, which is more cost-effective and simply easier (more on that note later!).
What to expect from student accommodation providers in London?
If you're searching for a room, flat or house share in London, it's going to be challenging to find a place that ticks all your boxes: high quality, affordable, safe, secure, clean – you probably have a long list! The reality is that finding a place can become a time consuming and confusing process. Want to make it easier? Here's where PBSA comes in again!
The best student accommodation in London will have lots of rooms to choose from, plenty of amenities, and a cool student vibe for all your Instagram moments.
Wondering what that looks like? Check out the listings on Londonist and you'll soon realise just how luxurious living in London can be, even on a student budget!

What else should you look out for when finding and booking accommodation in London?
Affordability
Sharing a twin room or an apartment in Purpose Built Student Accommodation with another international student might be a great option for you if you want the best value for money. You might already have a friend you want to share with, or if not, you can often specify certain preferences (such as gender or smoking habits) when booking student accommodation to help ensure you find a good match.
If you're looking for modern student accommodation in London, don't forget to fill out this form to help get you started.
Room Features
Ensuite rooms with your own private bathroom are a definite plus and are standard in all Londonist rooms. It's important to keep in mind that if you are sharing a house or flat with several other people, you will also be sharing a bathroom! This can be awkward when you all need to get ready for classes in the morning, or if you want to enjoy a long hot shower at the end of the day but your housemate needs to use the bathroom. A bit of privacy with an ensuite can go a long way!

On-Site Facility Features
With any accommodation you book in London, high speed Wi-Fi is probably one of the most important "must haves". In an individual flat or house share, Internet connections can vary, whereas in a building specifically built for student living, you're guaranteed speed any day, all day.
The next thing you'll want to look for is an all-inclusive bills policy. This saves you the hassle of having to find individual service providers for things like water, gas, electricity, internet, etc. And you won't need to worry about meter readings and monthly payments to lots of different companies. Moreover, if you're living in a PBSA, each person automatically pays their own bills. This might seem obvious, but we've heard tons of stories from students who struggle to get rent and utility bills paid on time because their house mates were unreliable! You can save yourself these hassles by choosing to live in a more independent environment such as Londonist.
Another big perk of Purpose Built Student Accommodation is the modern amenities which are all included free of charge such as an on-site gym, social spaces, cinema, and quiet study spaces. From cafes to karaoke rooms, check out this awesome virtual tour and you'll see what we mean!
And of course, safety and security are a must. Buildings from Londonist, for example, are designed with all the right features in mind such as CCTV, keycard entry, 24/7 security staff, and a maintenance team to keep things running smoothly. Every building has also been updated to follow Covid-19 precautions including social distancing, hand sanitiser stations and intensified cleaning routines. With Londonist, you can also arrange to have your room thoroughly cleaned on a regular basis, giving you peace of mind and more free time to enjoy living as a student in London!
Independence, Privacy and a Social Life
Purpose Built Student Accommodation (PBSA) is actually considered to be the best of both worlds because you get all the modern, spacious facilities and you still have your own space and privacy in your own room. So when you're in the mood to socialise, you can easily find new friends in the common areas, and when you need some "me time", you can always find a private quiet corner somewhere in the building, or you can retreat to your room.
One of the best things about studying in London is that you'll be able to meet local and international students from a wide variety of cultures and backgrounds. If you choose to live in a house share with a few other people, your social circle can be a bit limited. However, in a PBSA there will be plenty of new friends to hang out with, study with, or even network with for future internship or work opportunities. Plus you'll have the chance to practice your English with local students or other non-native speakers.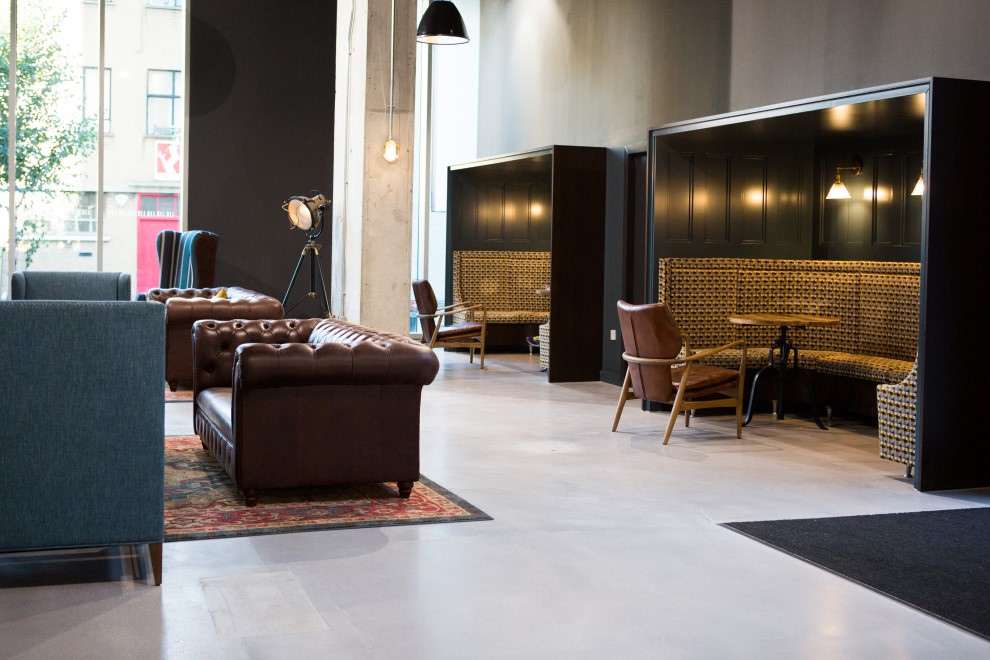 Finding the Ideal London Location
As you can imagine, London is a big city and while you'll want to explore it all, you'll also want to find a place to live which is relatively close to your university. Londonist can help you choose from nearly 25 different options across the city, so you'll be sure to find the right location for you. And no matter which one you choose, you're guaranteed to have easy access to popular tourist attractions, shops, restaurants, nightlife and public transport links – all the while remaining safe and secure.
Flexible Booking and Cancellation Terms
Most international students who are looking for accommodation in the UK agree that they'd feel more comfortable when booking a room if there are flexible terms and conditions. When you book with Londonist, you can get a full refund if you need to cancel your accommodation booking for any reason (such as not getting your student visa, not getting a place at your desired university, travel restrictions due to Covid-19, etc.).
Londonist offers flexibility with both short and long-term accommodation, so you can stay for as little as two weeks and as long as one year. You also don't need to book for the full year – they can easily extend your booking any time.
With the UK making impressive progress vaccinating the population across all age groups, it's predicted to be a busy year ahead for accommodation providers and universities. Start your research now and give yourself enough time to secure a booking before spaces fill up!
Fill in the form below and receive more information on student accommodation in London.