Finding the right place to live as a student in Spain can be tricky, but these safe and beautifully designed properties can put your mind at ease. 
When searching for student accommodation, there are lots of options, but the best will always be the one you can trust the most.
Collegiate offers safe, private accommodation for students that combines the culture and authenticity of halls of residence and homestay with the comfort and reliability of renting. Along with residences in the United Kingdom and Portugal, Collegiate has Spanish residences in Barcelona, Madrid and Valencia.
If you would like to find out more about student accommodation in Spain, then please complete this form.
Student Accommodation in Spain
Collegiate's Spanish residences include Marina Real in Valencia and Aravaca Madrid in Madrid.
Features at these residences include:
All-inclusive rent (electric heating and/or air conditioning, water, broadband & wifi, security as well as other services and features)
State-of-the-art security (most residences have a 24/7 concierge, restricted access to property, control of visitors, CCTV)
Features can include gyms, club lounge, dining room, study room, cinema room, sun terraces and games room. Marina Real also has an outdoor swimming pool in the courtyard
Well-connected locations in Madrid and central location in Valencia (close to main campuses)
Organised social gatherings and events to build a community of students from all over the world
Madrid welcomes students from all over the world, interested in studying in the city, making it one of the most multicultural international student communities in Europe.
As a student in Madrid, you will become a part of Spanish culture and its cosmopolitan lifestyle. It is really the ideal place to carry out your studies, and the student residences of Collegiate will provide you with the necessary amenities so that you can carry it out.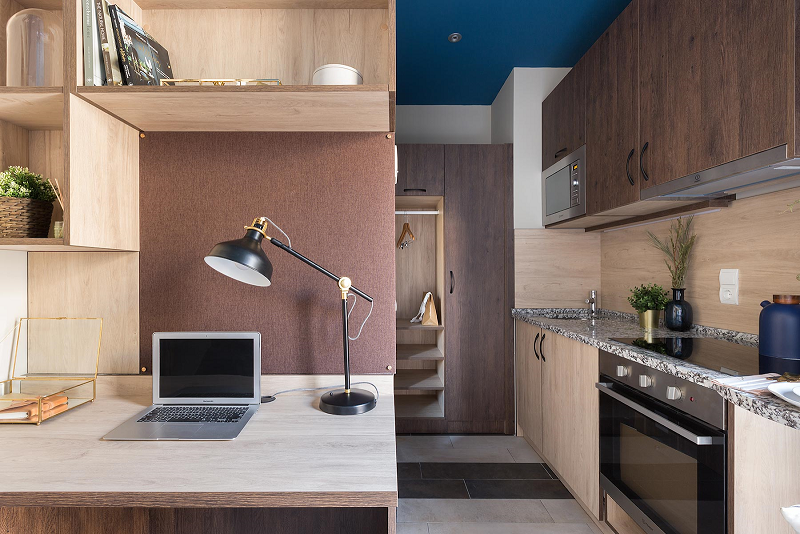 Collegiate Aravaca Madrid, Spain
Aravaca Madrid - 215 student residences in Aravaca, a district in Madrid
Private gym, garden and large outdoor terrace
Movie theater and playground
Private dining room and large rooms for celebrations
Study room and library
Complete studio with kitchen and private bathroom
All bills included
Systems security and surveillance
Living in a Collegiate property, you will benefit from having one simple rate, with everything included (such as bills, wifi and additional services) for convenience. Collegiate's properties are also safe and secure to allow for peace of mind, while its exquisite decoration and prestigious facilities will make your experience an unforgettable experience.
With several higher education centers located throughout the city, Madrid welcomes a multitude of young intellectuals and professionals from around the world. Located in the center of Spain, Madrid is home to two large universities, the Autonomous University of Madrid and the Complutense University of Madrid (one of the oldest in the world), as well as a polytechnic school, other faculties and international business schools. 
Madrid is the perfect place for an exciting experience, and Collegiate can help you achieve it by offering you a world of relaxation and luxury, where you will enjoy stunning interiors and a host of cutting-edge facilities.
As the third largest city in Spain, Valencia has a lot to offer its inhabitants as far as attractions are concerned, but it also has a relaxed lifestyle with coastal beauty. In any of the bars or terraces next to the beach of Valencia, you can enjoy a delicious variety of fresh seafood, while drinking a glass of cava or cold beer in the afternoon sun.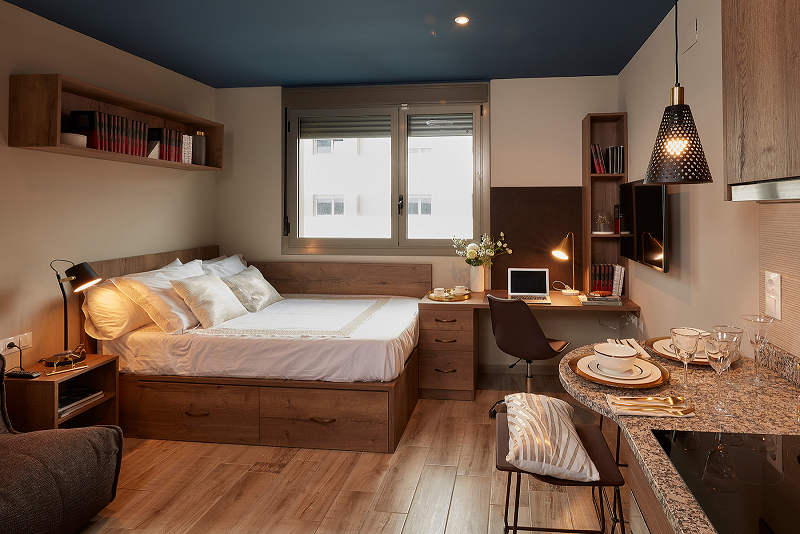 Marina Real Valencia, Spain
Marina Real - 350 luxury studios with private bathrooms
Private gym and pool
2 roof terraces with 360º views and interior patio
Living room and private lounge
Projection room, games room and music rooms
Library and study room
Supplies included and private bathroom
Latest technology in security and concierge service 24/7
Valencia is home to several academic institutions, like the University of Valencia and Polytechnic University of Valencia, so you can be sure to enjoy an enriching and dynamic experience during your student life. Whichever your university of choice, you can rely on Collegiate to offer you a luxurious student lifestyle with an ideal location to access the city's different university campuses.
Collegiate guarantees you an exquisite, safe and reliable home with advanced facilities and designed for your total comfort, convenience and enjoyment. Most importantly, all rentals come with taxes and supplies included, so you can enjoy your new home without any surprises.
With a selection of dazzling beaches just around the corner, Valencia has everything a student could need for a balance between study and enjoyment, and Collegiate's exclusive student accommodation contributes to this rich and vibrant experience.
--
If you are worried about what living in a Collegiate property may cost, then you shouldn't fear. With bills included in the rental charge and so many additional features also included within the cost, then Collegiate ends up being far cheaper than renting privately.
If you would like to find out more about what Collegiate can do for you, then please complete the form below.